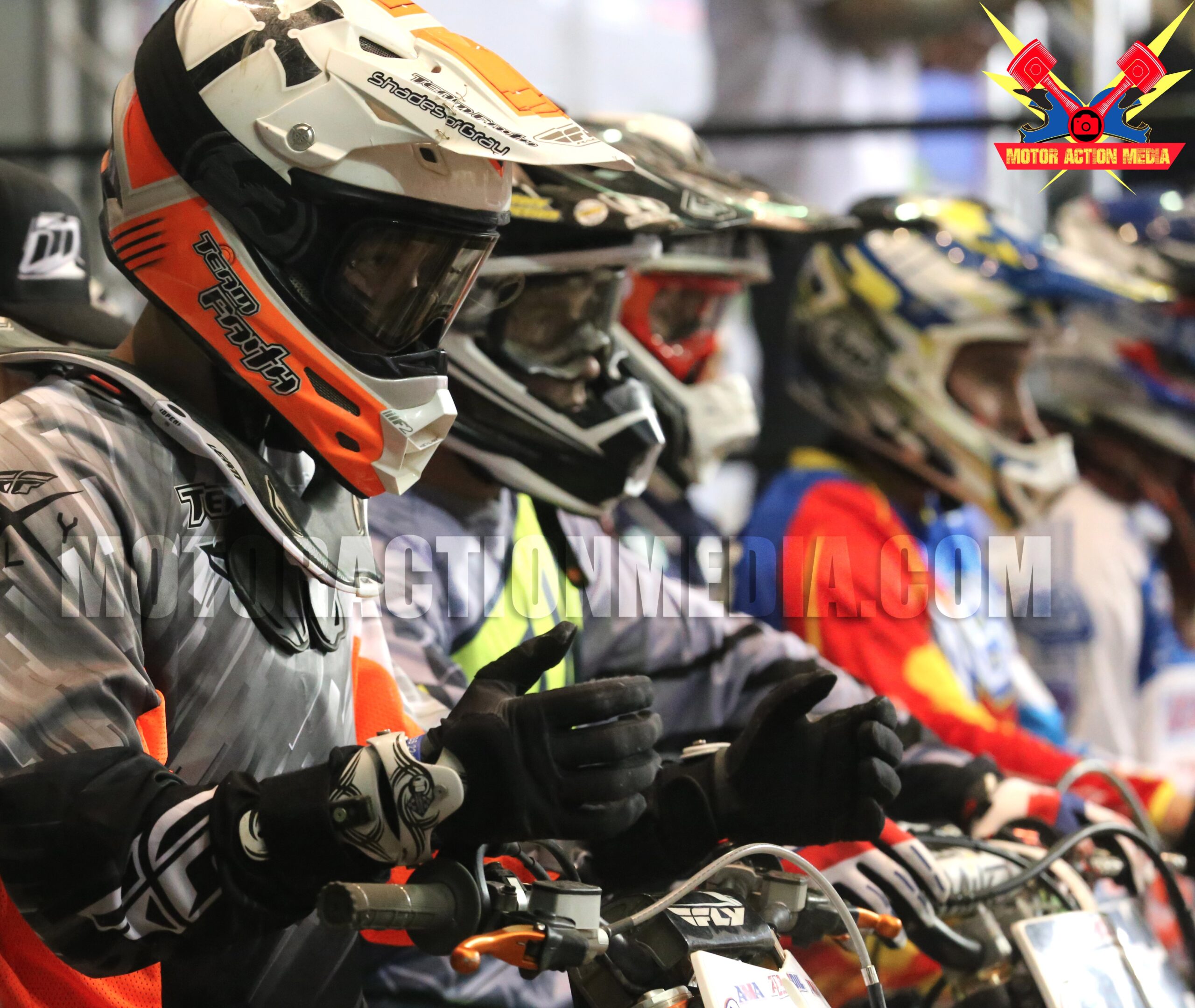 The stadium was packed and the crowd was buzzing while racers from all over the country went head to head on the second night of Pro Arenacross racing in Council Bluffs.
Saturday night started with an awesome track party. Fans got a chance to meet some of the biggest racers in Arenacross and walk the track for themselves. The riders also put their bikes on display so the fans could check them out while they waited in line for autographs. After another successful track party, racers convened at the the Team Faith dinner to enjoy complimentary pasta and a devotional message, as well as a little bit of worship before racing.
Opening ceremonies kicked off with a bang – literally – massive fireworks got the crowd excited for an intense night of racing. Unlike Kansas City, there was no sand on this track. But a massive whoops section and a strategic split section made the track extremely technical. Kawasaki rider Matt Goerke would take another Arenacross overall win in Iowa after a chaotic race, and TiLube/Husqvarna racers Gavin Faith and Kyle Regal would take second and third respectively. Other racers like Jacob Hayes, Chris Blose and Gared Stienke diced it up on the track.
Kyle Regal has edged Jacob Hayes in the Arenacross Championship Points. Regal is currently standing at 308 points after Saturday night. A tough night for Hayes has him inches from regaining the red plate, only one point behind Regal. Hayes and Goerke are currently tied with 307 points.
The Arenacross Lites class was just as fierce. This class saw close battles, tight lines and a few rough wrecks. The KTM rider, Daniel Blair would take the overall win, followed by Josh Cartwright with Yamaha in second place, and KTM rider Dave Ginolfi in third place.
Motor Action Media was on site taking photos on Saturday March 7. Here are some of our favorite shots. If you are interested in our photography, please contact us directly.