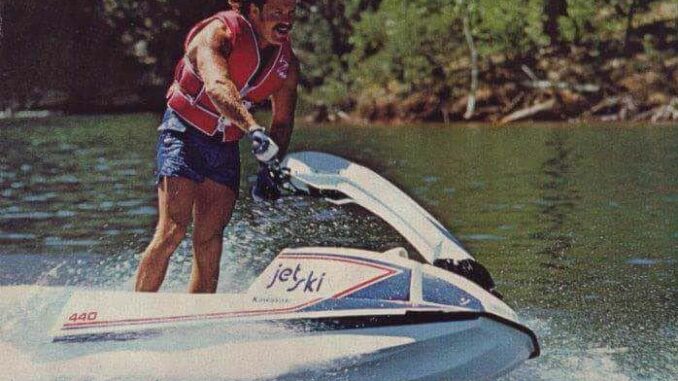 Bob, first and foremost, could you tell us how you got involved in Jet Skiing?
In 1972 I worked for KMC in the Parts Department as a parts specialist. On Easter weekend my friends and I headed to the Parker, AZ area to water ski. I woke up early on Friday morning and sat by a fire and fixed so coffee. As the sun was rising I heard the sound of a 2 stroke engine coming up the river. I stood in amazement as this tiny craft bounced its way past me and up the river and disappeared around the bend. WTH was that??About 15 minutes later I could hear the engine echoing it's way down through the canyon and back towards me. I ran down to the waters edge and unhooked my boat. I followed it back to Fox's Landing.
As I approached the beach I spotted 3 guys that I recognized from KMC.  Up on shore I met Bob McCord, Norm Harris and Fred Tunstall. Talking with them I learned that the WaterJet was a top secret test vehicle for the very company I worked for. On Monday I found the separate R&D facility for the product. Having discussion with Norm about my previous work with R&D on M/C's he allowed that on weekends I could check out a ski, Ride it and fill out reports. The very Next weekend Steve Stricklin and I checked out a Red AA ( flat bottom) test ski and went to a lake near Fresno. I've been riding ever since. 
You essentially rode one of the first ever Jet Skis. What was your initial thought/reaction when you got to ride the ski?
I was blown away by the ski. Steve and I both raced MX. But these were different. No fear of crashing. But also no previous instruction on how or what to do with these things. We spent the entire weekend crashing. Mostly just tipping over. It finally quit running midday Sunday. We could get it to start but we couldn't keep it running. Our first experience with a broken exhaust pipe. But we were/ are permanently hooked.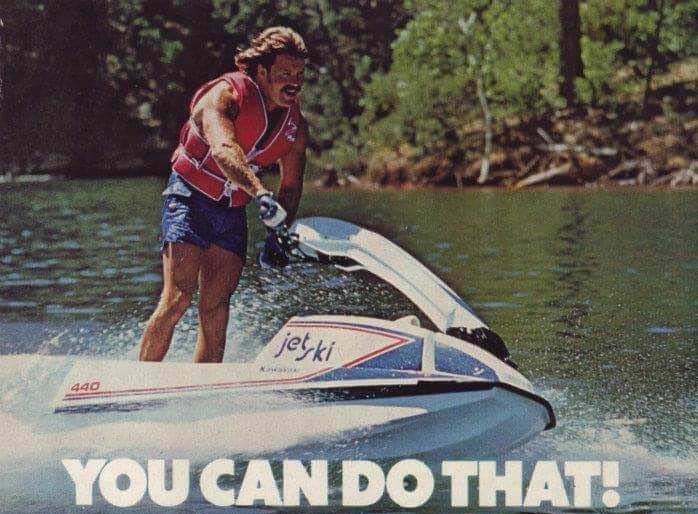 You spent some time traveling to promote the Jet Ski. Could you describe what you were doing?
So that was in 72. 73 and 74 I ride on outside services and tested while doing my regular job of Parts Specialist, the Accessory Salesman for the region and purchased my first ski Easter of 74. We couldn't buy them until an new model came out. I bout 2 73 WSAB, V hull skis. 
In 76 I was a District Sales Manager for Northern California. That year the Skis were introduced to the Country officially. Mid 76 I heard that a Sales and Marketing Division was going to be started so I transferred back to Corporate Offices in Santa Ana. Bill Gray started the Department. I was titled Jet Ski Marketing Specialist…. Wow, my job was promote skis!!
The schedule was like this: consumer Boat Shows Jan-March, there were 10. I worked 5. I did work with Media doing TV shows, working with celebrities, doing game shows "Battle of the NFL Cheerleaders" and water ski shows, drag boat races, Surf contest exhibitions and Off Shore races. Later I was helping rental agencies get started, and started helping promoters put on local races.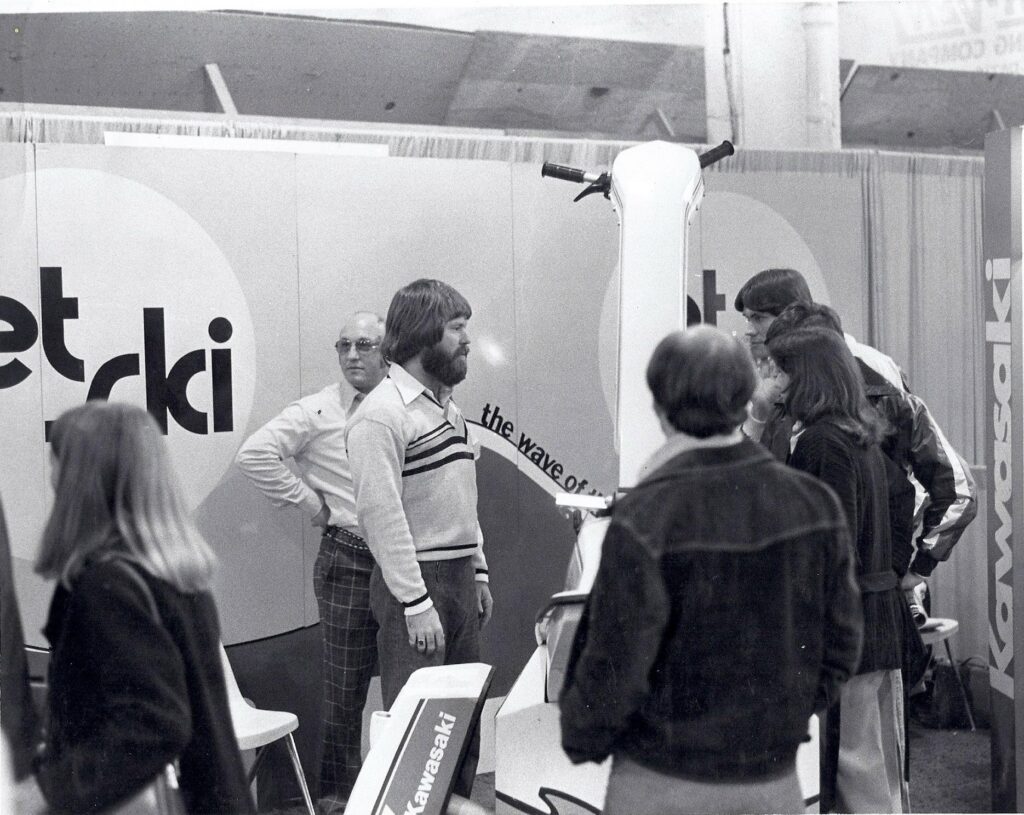 The whole time each of us would help write manuals on service, how to set up races and promotions. Write rule books, do procedures for rider training. Do evaluations on current model skis etc. In 78 a Team did a photo promotion at Whiskeytown Lake and developed a package of information,  pictures and a video used to advertise the product. Mostly for magazines and print ads. The video used in a cassette that Dealers used in their showrooms to show the ski in action. I normally traveled about 9 months straight starting in January.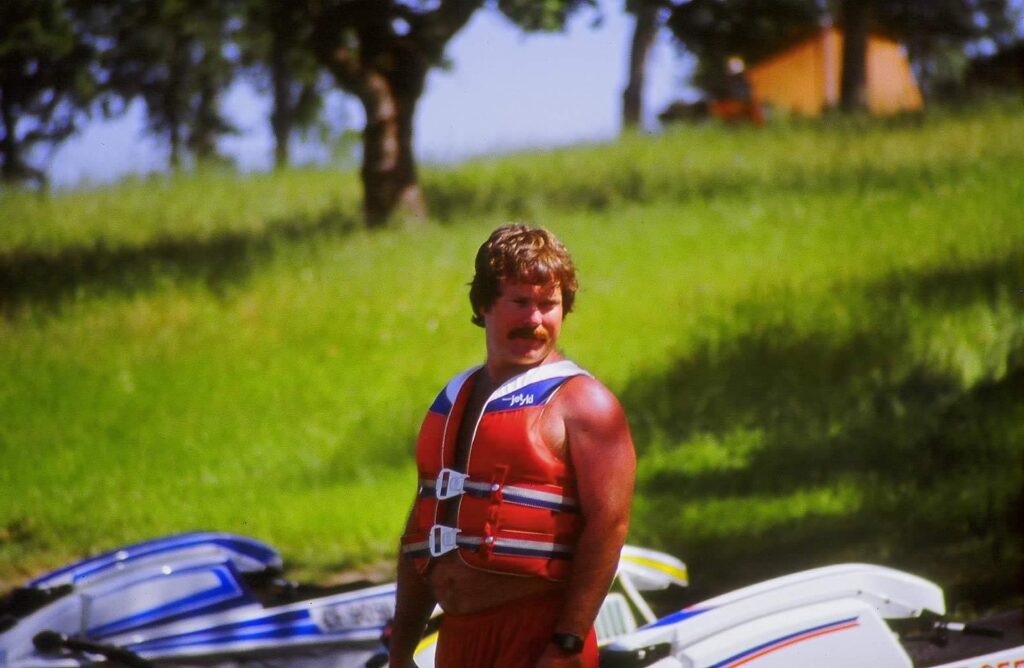 You also helped kick start some of the first Jet Ski racing as well. How did this come about?
Jet ski racing started off in 1977. David Wiles, owner of San Diego Kawasaki put on the event. The location was San Diego — Mission Bay. Bill Gray sent me to meet with David in May of that year. Doug Silverstein went with me along with his girl Jill Brethauer. We met with the San Diego crew at mission bay. We helped him organize the program and added information about what was going on across the country. That event was a major success. David still promotes Jet Ski Races. As racing spread I would attend events, help with overall organization and announce the racing. I announced the National tour races in the late 70's. I was the announcer for the First Lake Havasu National Championship in 1982 and 83.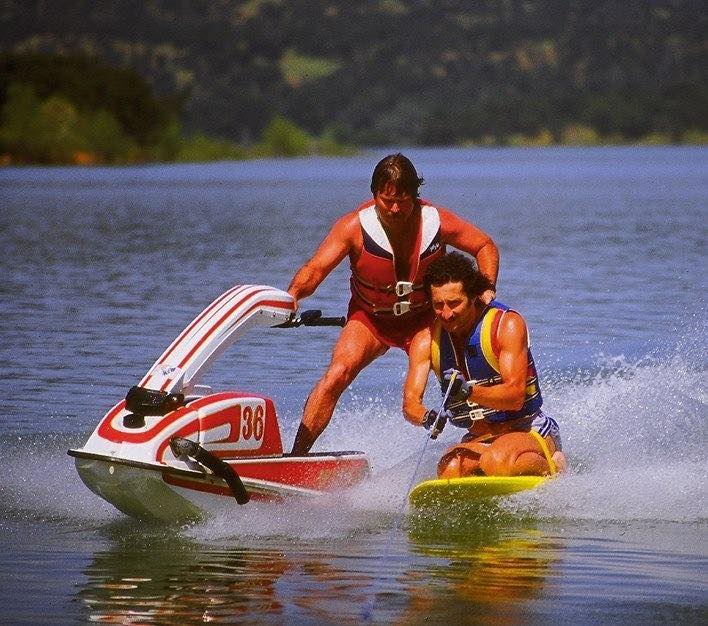 What ski are you riding these days?
Nowadays I ride a few days a week during the season. I own a 92 550 reed skis which honestly is my OP ski," Other Person" — a ski I keep for others to ride when they visit. My go to ski is my 36 ski. It is a 92 440. A replica of my 77 race ski. It is my comfort zone. I have thousands of hours on a 440. So this is my preferred ride. It is comfortably fast, in the upper 40's, and as I have aged some, it's all me! I also own 2 TS skis. My wife is uncomfortable on a stand up ski and we enjoy some major cruising on our local waters.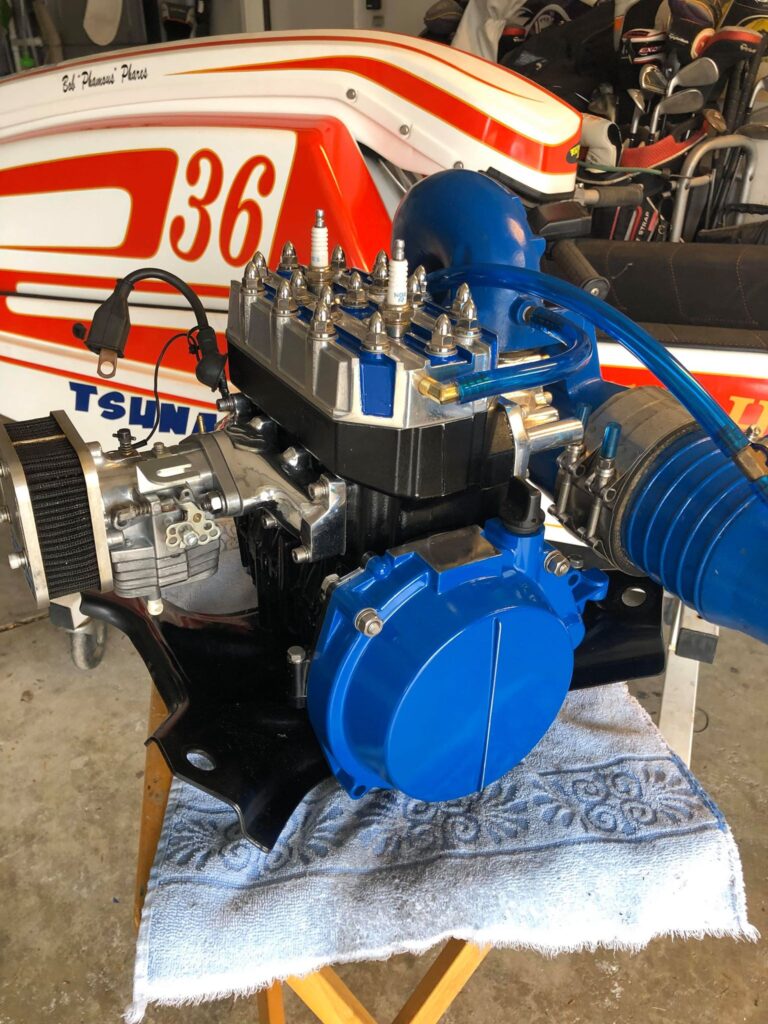 How did you get the nickname "Phamous"?
My Phamous Phares nickname? Well as an announcer I nicknamed many Riders. Ripper, Holeshot Mallott, Flyin Brian etc. so I also nicknamed myself. 
But the roots came from Bill Gray, Head of Jet Ski Division. During the filming at Whiskeytown Lake in 1978 Bill was looking to photograph a person to be "The Guy" for the 79 poster. Riders on the shoot were Doug Silverstein, Randy Milligan, Terry Beatty and myself. During the week we did " Interview Rides" performing tricks and stunts and turns. All the riders were very good, but my turns threw more water and, from what Bill said, "Looked Relaxed". The main problem before the shoot was that I had a beard. Bill met with me and said, " I really want to use your image on the poster, but the beard is a problem. If you lose the beard, I'll make you famous!"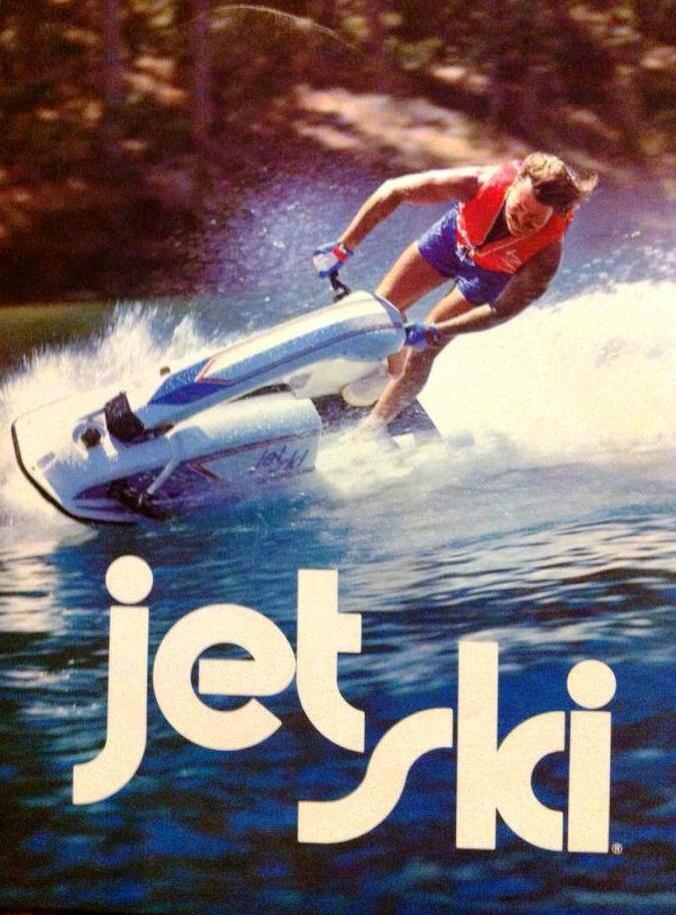 So they used my picture and as I worked events riders would kid me some for announcing and not being in all the events. Stealing a bit from Chevy Chase, I would reply, "But I'm famous and you're not!"
To match my last name, Famous became "Phamous" So Phamous Phares.

What do you think about the Jet Skis they are racing today?
The skis being raced today are awesome, Beautiful, Hitech and Very Fast. The parts, Accessories and talent are incredible. 

What has been your favorite accomplishment from your time in the industry?
Accomplishments??
Tough choices here. I'd have to say the Tropical Blend Tour was a great accomplishment. Bill put me in charge of the teams. 5 teams. A Team was 1 KMC Employee, 1 box van, six skis for demos 2 more for patrol and the six pack trailer. The tour started April 1, 1979 and ran through August.
Held in 54 cities in the USA. I was a rover to the busiest locations. We had arranged with Plough Inc, owners of Tropical Blend to do a media buy for radio promotion using a ski as barter. The radio station would meet with Team and learn to ride a ski. That week they would talk up the upcoming event and talk about their experience. Team members would do interviews on air. We would gather local dealers and their employees to do the actual demo. Usually tied to another sponsor at same time such as Frisbee or Wind Surfers.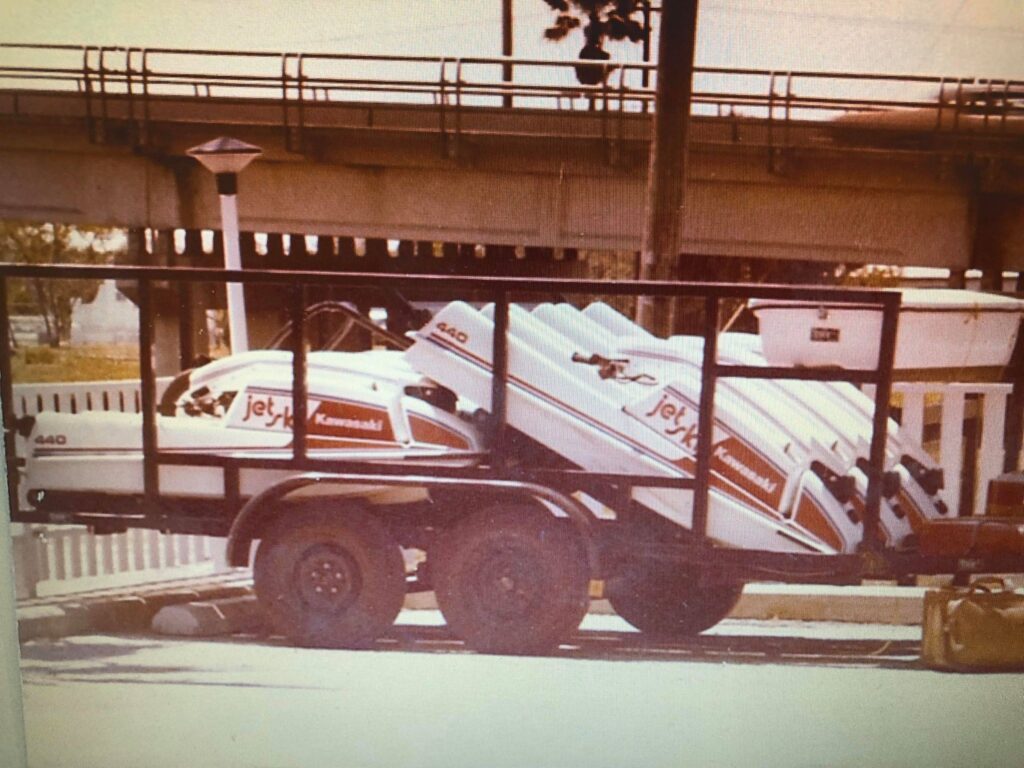 We would have a ground training unit to instruct on boarding a ski. Then they would be assist to start on their knees by water crew of 2 and ride in a circle for about 10- 15 minutes. We had 1 patrol rider. We would put hundreds of riders on skis at each event. Pack up and move on to next city. Do maintenance and ride, practice and again meet with next station. Team Members we're Steve Stricklin, Doug Silverstein, Brad Southworth, Terry Beatty, Bruce Stjernstrom and John Welch. Yes, I hired Bruce StJernstrom. 
It was a tremendous success. More skis were sold in 79 than any year. We put thousands of people on skis that summer. And no one was injured.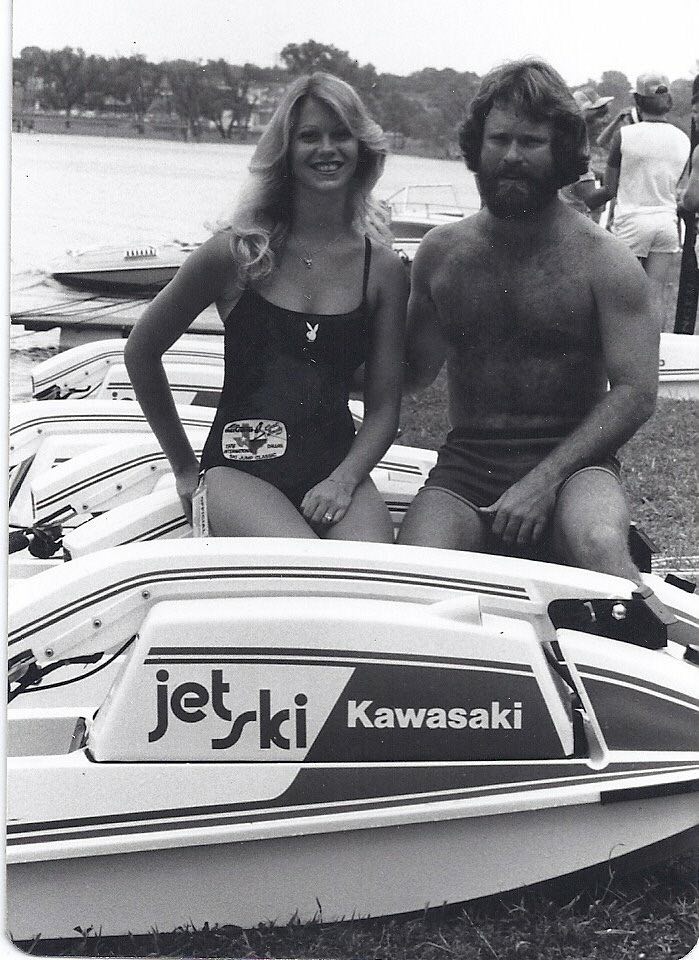 What has been your favorite memory?
Hmm so many. So many others I probably can't talk about. I mean it's 48 years of stuff. I guess my memories of the things I've gotten to do, the people I've met and the places I've been all because I love to ski. The memory is "all of the above".
My favorite this about Jet skiing is the ride. It's the time, the day, the water. It's using the water how it will let you ride. It's bashing trough chop, carving on glass, riding a wave and being with friends. 

Is there anything else you'd like to add?
I am honored to to be part of a sport that I helped create. A product that I help design, to be recognized still to riders of all ages and given respect for my contributions to the sport. To see my picture being used in the introduction of the latest stand up ski was quite rewarding.