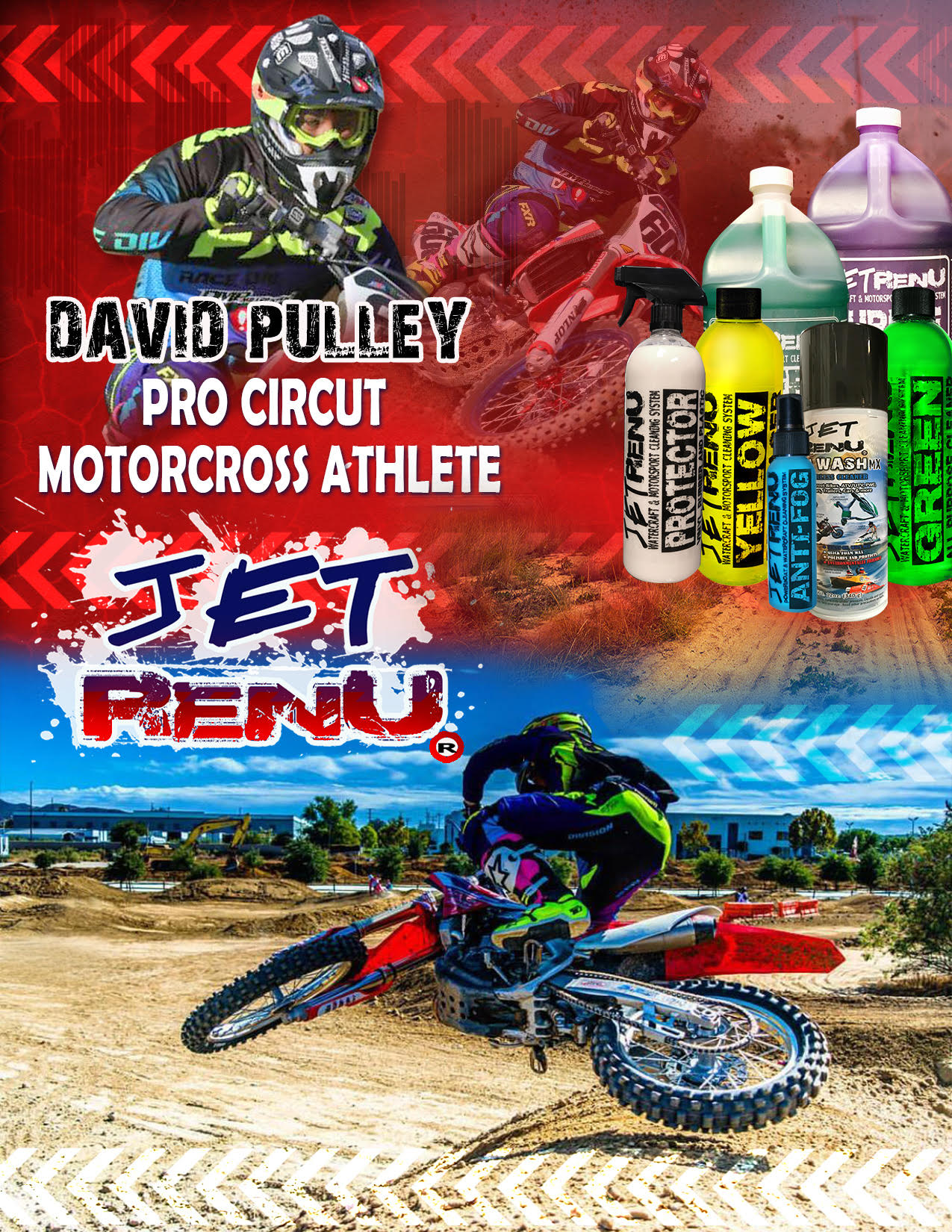 MotorActionMedia.com sits down with JetRenu athlete David Pulley and talk Supercross and more.

David, could you give us a little background on how you got started racing dirtbikes?
Well I started out wanting to be a Jet Ski racer to be honest. My dad used to race the Pro National Surf tour back in the day and I used to travel with him to the races on my summer breaks and I really wanted to race Jet Skis like him. We actually had a track at our house on the lake and I used to ride my SuperJet all the time with the guys when I was 6-12yrs old. I actually got really good at it. But you had to be 16 to start racing back then so I ended up asking for a dirt bike when I was 8 years old. My dad got me a pw80. Then I learned how to ride at my property at home and at my home track Lake Elsinore Motocross Park.
I was hooked from the first day I rode a dirt bike and It all took off from there. I raced some small little fun races at this track in Rosarito Beach, Mexico right by where we took the skis out to surf ride at and I won all those little races. Then my first ever real race was in 2003, The World Mini Grand Prix in Las Vegas. I was 10 years old and ended yup finishing mid pack in my first ever really big race with 40 kids lined up on a gate.
Can you give us a brief history of your accomplishments and highlights in racing?
I have won a few Arenacross championships on 85's as well as many top 10s in amateur nationals. Then moving up to big bikes I won a lot of local amateur events and my last race as a B rider in 2010 I won the Amateur Cross Championship in the schoolboy class then a 3rd place in 450 B. Which is a motocross one day and Supercross the other day event we had back then. Moving onto my pro career so far, in 2012 I got 5th place overall in the lites AMA Arenacross Championship and received my endorsement for Supercross. In 2013 I made my first ever 250 Supercross night show and almost made the main event, running 9th in my heat race until a last lap crash. 2014 I made my first 450 night show in Toronto Canada. And since then have been continuing to build from there.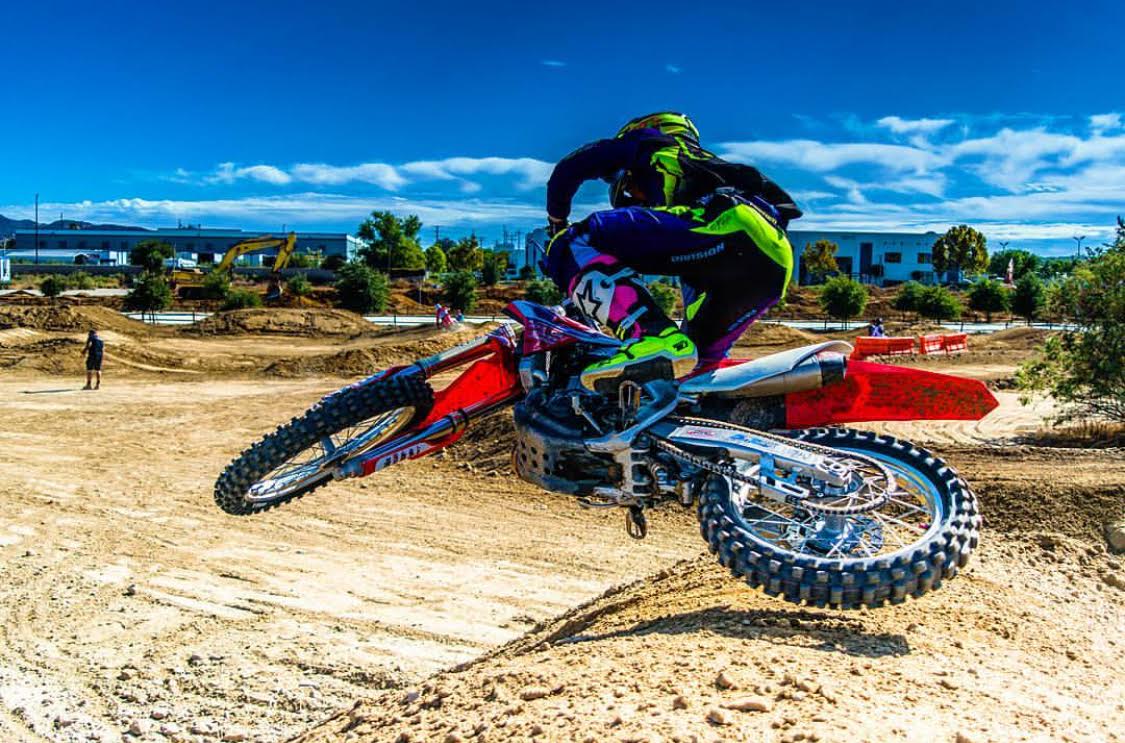 What are your plans for 2018?
My plans for 2018 are to race the full 450 Supercross season and try to put a deal together to ride the full 450 outdoor motocross season as well. Then I will race some overseas races in the off season after racing Monster Energy Cup.
Supercross is considered some of the most elite motorcycle racing on the planet, what was it like lining up at the SX gate the first time?
It's an amazing experience for sure to line up for the first time, It's definitely a lot more nerve-racking though; the crowds are 3 times the size as Arenacross and you're lining up next to guys you looked up to most your life. Even now theres still some butterflies you get before you go out there, But once you learn to use that to your advantage and not let it affect your focus, it makes things much easier!
We do a ton of cycling and MTB for base cardio building and maintenance. As well as a lot of High Intensity Interval training along with tons of core and strength stuff. During pre season I ride and train 6 days a week and Sunday is my only true rest day off.
I understand you/your family also has some background in Jet Ski racing?
Yes my dad raced jet skis for years and he actually retired early to help me pursue my dream in motocross. That's part of the reason why my racing number as always had the number 8 in it. When my dad last raced he had earned the #8 after ranking 8th in the world at the World Finals at the end of that season.
What are your goals for the 2018 Supercross season?
My goals for 2018 are to be out there racing in every single 450 night show of the year and working on getting into position to be a consistent main event guy by the middle of the season. And just keep pushing my self to progress further and further.


Can you tell me about your bike?
My bike are 2018 Honda CRF450R's. DASA does the porting on my engines for me and Webcam Racing builds the race camshaft. Vertex Pistons makes us the best high comp. pistons on the market and Pivot Works supplies us with all the bearings and seals we could possibly need for the bikes. Also John at MMR helps me out a ton with
suspension and motor rebuilds and building our race transmissions. On my bikes we use JetRenu DryWash, MetalRenu, RenuShield, Yellow Degreaser, Green All Purpose Cleaner, and the Blue Plastic Polish.
Is there anything you would like to add?
If you would like to follow me online and social media you can visit my website at DAVIDPULLEYMX.com
Instagram: @TheRealDP608
Twitter: @DP608
Is there anyone you would like to thank?
I have a lot of great sponsors that have helped me get to where I am today. I definitely could not do what I do without all of them. Huge thanks to, DMP Motorsports, Think Technology, Honda Powerports US, MMR, DASA, ODI, EBC Brakes, Dirt Tricks, Split Designs, Pivot Works, Vertex, Web Cam, American Kargo, MoTool, Dedicated Ride Co., Ryno Power, Rekluse, Devol Eng., P3 Carbon, FXR, Alpinestars, Magura USA, 4 Arm Strong, LS2 Helmets, Dubya, Super B Lithium Batteries, Yoshimura, K&N, Ethika, Huntington Beach Honda, and of
course Jet Renu!
This interview was brought to you by JetRenu.