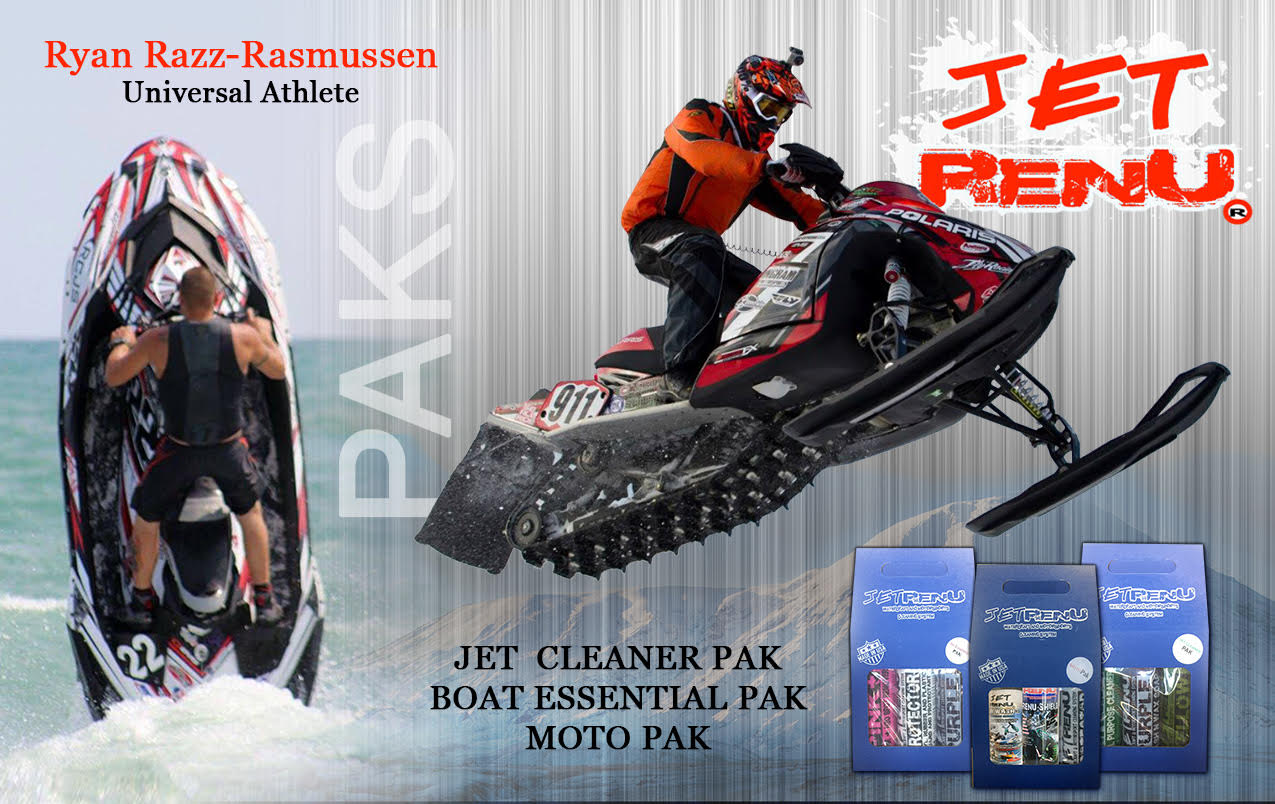 MotorActionMedia.com chats with Snow-X and Watercross athlete, Ryan Rasmussen.

Ryan, I understand you're a dual-sport athlete. Could you tell me a little about the sports you are competing in, and how you got involved?
Yes, I started racing snowcross in 2012 at the ripe age of 35. I started my daughter Paytin racing 120's that season and found we were always at the track. Since we were there every weekend I thought why not get a race sled myself and join in on the fun.
For the past two years I'd been riding buoys and practicing on Lake Michigan with a buddy who raced jetskis. I instantly took to liking the water and warmer weather that goes along with riding jetskis. So I decided this year to give it a try competitively.
So you're jumping between snowmobiles and Jet Ski racing — are there any similarities between those two sports?
Sno-X and watercross have their similarities for sure. The most similar is the riding style. I started racing watercross on a Kawasaki X2 and now race a SeaDoo Spark. The spark (being a sitdown) and a snowmobile are basically the same thing. It was a easy transition to the Spark and my loose riding style seems to work well on it.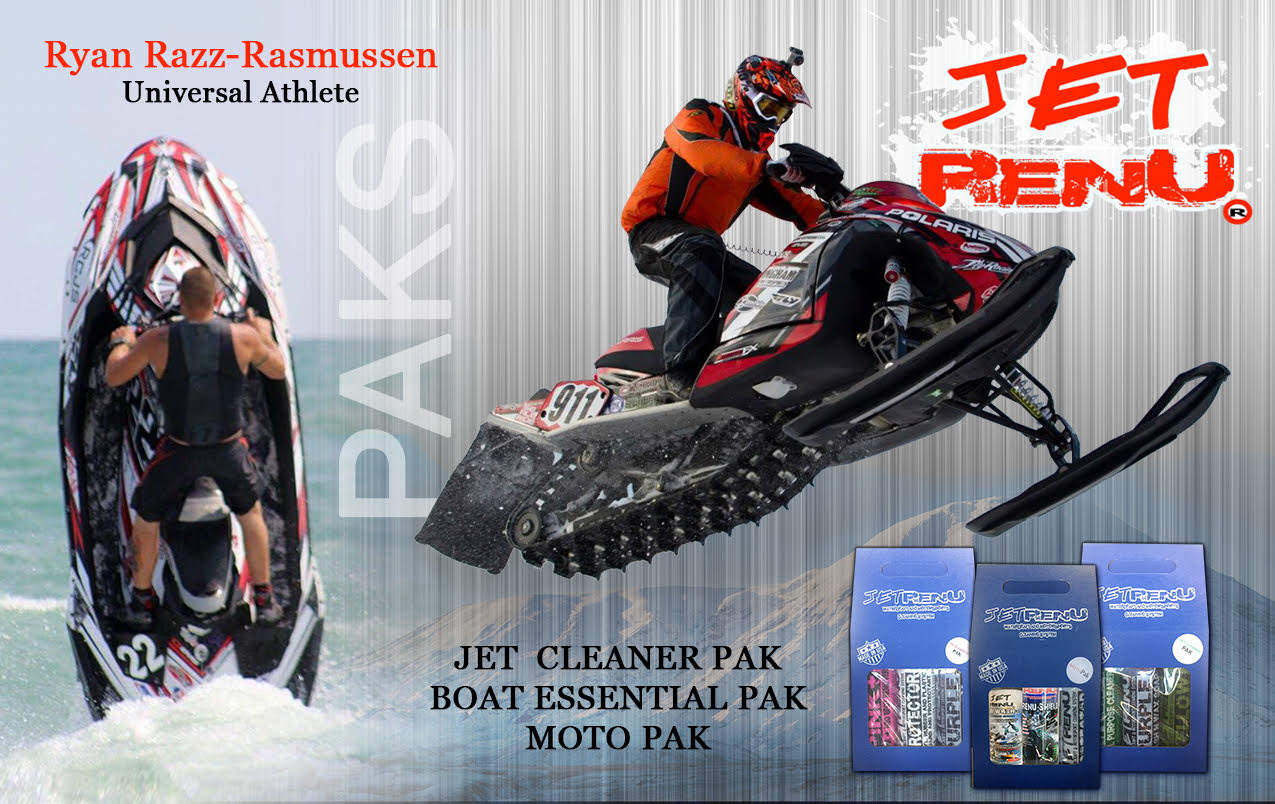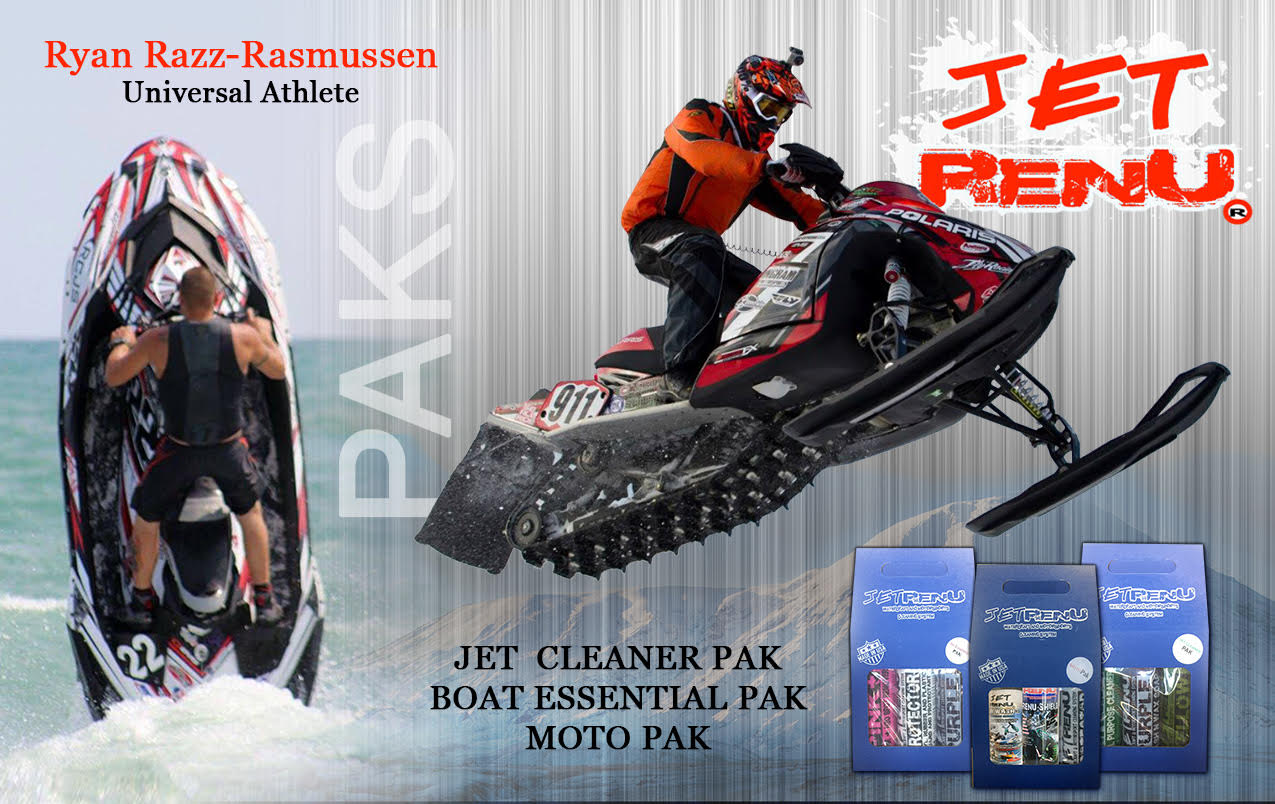 How has your Jet Ski season been so far? What events have you competed in, what were your results?
Being my first year I couldn't be happier! I entered my first race with Great Lakes Watercross June 10th at Lake Petenwell with my X2. I placed 6th overall and had a blast. But after the races that day I tried out a guy's SeaDoo Spark and took to it like a snowmobile. It was then that I knew I needed to get a sitdown. I had a Kawasaki SXR-800 that I sold and bought a Spark that next week. Since then the X2 has been resting and the Spark has been my choice ride. I raced two more events with Great Lakes watercross and ended the year in third for overall points.
I ran rounds 4 & 5 of the Can Am Watercross tour in Whiting, Indiana in beginner runabout and rec-lites. I placed third overall both days in rec-lites. In beginner runabout I took a third overall for round 4, but round 5 I found the top step of the podium taking first overall!
I ran rec-lites in Chicago for the P1 AquaX  series and took another third overall. This race reminded most of a Snox track, the waves and chop were crazy!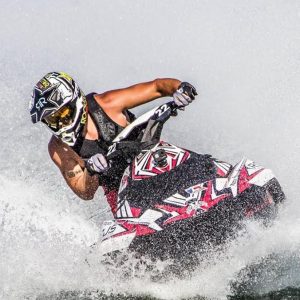 What are your plans and goals for the rest of the season, and 2018?
My plans are to continue racing snowmobiles, but not snocross. I will race my trail sled on a tamed down snocross track in a trail sled class this winter. I sold my race sled after having two season ending acl surgeries and a shattered femur. My body doesn't heal as fast anymore and snocross is very hard on the knees. Water is a little more forgiving than snow and I'm going to focus more on watercross. My family also would rather sit on a beach to cheer me on than bundled up and freezing at the snocross races! lol
As far as watercross I will continue to race and want to improve on this first years results.
My goals are simple, stay healthy and keep bettering myself as a rider and ambassador to the sports!
Can you tell me about your race machines? Give me some details on make, model, modifications etc. Please include what classes you race in.
As far as my snowmobile I will be racing this winter……..It's a 2009 Polaris Dragon 800 with an Slp pipe set up for trail class.
For water I have a 2017 SeaDoo Spark 3up I race in rec-lites and beginner or novice runabout. Some of the mods I've done consist of a Riva Racing air intake, ribbon delete, sponsons, ride plate, intake grate and a Solas impeller. My Kawasaki X2 collection keeps changing. As of now I have two that will go under the knife this winter and be ready for the vintage X2 open class next season.
I understand that you are a JetRenu athlete, what are your go-to JetRenu products? What do you use them on?
My two go to products are the Jet Renu Protector and the JetRenu Pink+. The protector is great on everything from the hull of my Spark (being plastic) to the dash and trim on my truck. The Pink+ I use on my skis to remove water spots and give it that fresh better than new look. My wife Christine prefers the JetRenu Stank Away product so my wetsuit, boots, and vest don't reek – ha!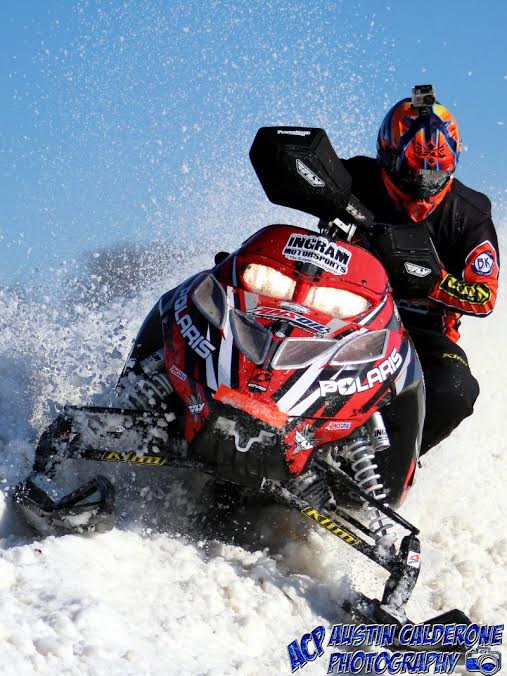 What advice do you have for someone looking into racing Jet Skis or snowmobiles?
Go to an event and watch, if you have questions don't be afraid to ask. Remember that every racer was in your shoes before and had to start somewhere. I found everyone is very helpful and willing to lend a hand or answer a question. Also remember that you don't need to be a teenager to race. There is many of us older guys and gals out there battling it out with the young bucks!
What's the transition like for you between racing snowmobiles/Jet Skis? Is there any overlap in your training?
For me the transition is seamless except for the [clothing] layers needed — haha!
My training is mainly riding as much as possible to stay in shape. The more I get to practice by riding the better I feel. I want to start eating cleaner and working out more though.
When do you put the Skis up for the year and break out the snowmobile? Are you racing year round running two sports?
The skis go into hibernation around November and the sleds come out. We don't get as much snow around here as we used to, so we have to wait for mother nature to cooperate.
What has been your favorite memory or accomplishment in your racing career?
My favorite memory racing no doubt was not my racing. It was seeing my daughters face when she "earned" her first win racing snowmobiles and having my family there for that moment.
Honestly as far as my racing goes I'm happy every time I leave the track healthy able to come back and do it again. To me that's an accomplishment in itself!
Is there anything else you would like to add?
I really enjoy being a brand ambassador for the companies that support me and love the family like atmosphere that comes with each sport I've raced. I've met so many people from racing and they are like a second family to me.
Also, Nanette Moreno (the owner of JetRenu) and I can't wait to test out her products in the snow and colder conditions. That's a new market she'd like to get into and I will be doing the testing for her and JetRenu come this winter.
Is there anyone you would like to thank?
First I'd like to thank you for taking the time to do this interview.
I'd also like to thank my family and friends who have supported me through the good times and bad.
To my sponsors JetRenu (Nanette Moreno), Watcon.com and Rock County Jetski (John Zigler), Fly Racing (Rich Kumm, Nathan Titus and Amanda Wintrode), EVS Sports, GoPro and Amsoil Synthetics……… I thank you for taking a chance on me and the support you and your companies have given me towards my racing efforts!
This interview was brought to you by JetRenu.