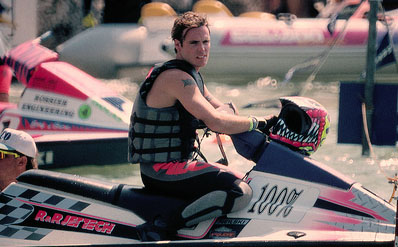 Motor Action Media owner, Anna Glennon, interviews hip-hop icon and former Jet Ski racer, Vanilla Ice (Rob Van Winkle).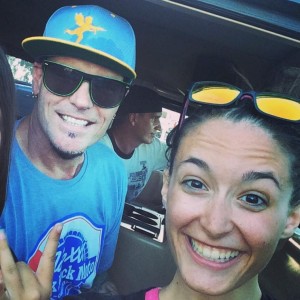 Known as one of the most famous hip-hop icons of all time, there's not a soul that doesn't know hip-hop legend, Vanilla Ice. But what many people don't know about the legend is his extensive background in personal watercraft racing – that's right; Vanilla Ice was a jetski racer.
Like many racers today, Rob Van Winkle (aka Vanilla Ice) rooted a love for action sports in motocross, where he began at a young age of eight years old. As he grew older, the Miami native bought jetskis to enjoy in the gulf near his home.
"The moon used to get so bright in the evenings on the ocean" Van Winkle recalled. "We used to ride all day, and then all night. [Laughs] I don't advise that you do that these days!"
After showing interest in jet skis, he was quickly introduced to some of the most popular riders of all time. He spent weekends riding with the greats like "Jammin' Jeff Jacobs, Victor "The Slasher" Sheldon and Chris "The Flyin Fish" Fischetti. They even helped him construct a course to practice on. After spending time riding with them, it was clear that he had a talent for riding, and these legends encouraged him to try his hand at closed course racing.
Following their advice, he raced at a handful of regional and national events, and immediately caught the bug.
"I was really lucky to get involved when the sport was really at its peak." Van Winkle said. "Thousands of people in the stands and ESPN, it was awesome."
The superstar vividly remembers one of his favorite wins during his time as a racer at the seventh National Tour stop in Seaside, New Jersey. He dominated the qualifier on his carbon fiber ski and even hole-shotted the factory Kawasaki boats on the line. Throughout the season his best finishes were second and third.
"I was so excited when I won in Seaside." He recalled. "I jumped up on the stage and did a little rap!"
While he was signing record deals, he was also signing major sponsorship deals. In his first season, Sea Doo sponsored him. In 1995, he signed with Factory Kawasaki.
"Being on Team Kawi, I got access to factory skis." Van Winkle said. "They were completely different than anything you could buy during the time. The motors had tons of power for closed course racing."
His talent took him all the way to the World Finals in Lake Havasu City. After his first day of racing, he was holding on to a strong second place.
"I was so excited to be running in second, the guy in first was just too far for me to catch, but I had second."
To everyone's surprise, misfortune struck the young racer. The morning of his second race, he awoke to find all of his equipment had been stolen. Despite the fact that he did not race the final moto; the rapping genius was now ranked 6th in the World as a jetski racer.
Many racers still remember Van Winkle for his great personality and passion during their time with him.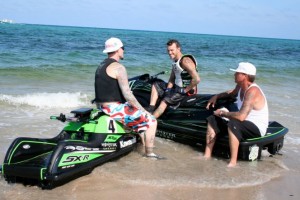 Chris "The Flyin Fish" Fischetti, one of the greatest stand up riders all of time recalls the thriving night life that came with the Van Winkle VIP treatment, "We would roll into a local club after a race and the DJ would always put 'Ice Ice Baby' on and Vanilla would rap to it." He said. "It was our own private jetski racer concert! It was totally legit!"
World Champion Runabout racer and owner of the illustrious Mountain Motorsports chain, Dustin Farthing, is a long time friend of the rapping legend.
"We still do a lot of things together, I've been on his television show a couple times in the last few years, and he buys all his motorcycles from me."
Although his time at the World Finals was not ideal, he has remained interested and involved in the watercraft industry outside of closed course racing. Recently making the headlines was his appearance at the Sea Doo #SparkSomeFun event in Miami, FL. Vanilla Ice was seen partying with another popular musician, Joel Zimmerman, known as Deadmau5. In honor of the release of the innovative new 2014 Spark.
When asked about his opinion on the newest machine in the Sea Doo line up, Van Winkle had a lot to say. "The Spark reminded me a lot of the old race boats from back in the day. It's very light and nimble." He explained. " It's not the fastest ski, but for having fun it's a blast!
He and Zimmerman spent a weekend jumping wakes and having fun on their own custom Spark Sea Doos. "The Spark is a completely different kind of ski, I really love my GTX at home is like riding a Rolls Royce." He said. "The Spark is very snappy, like BRAAAP. [Laughs]".
Since ranking 6th in the World, Van Winkle has yet to get back into closed course racing but there is hope for Vanilla Ice fans, "I might pop in now that I've caught the bug again." he said. "I'm running into a lot of old racers and they're all encouraging me to get back into it."
Not only has he considered joining other racers on the line, the hip-hop mastermind has also considered rocking Kokomos with the racers in October. "I would love to do a concert at Worlds!" he said. "That would be awesome, love to be back in the mix. Lets do it!"
While he is busy with a variety of new ventures, there is potential to see him make his way back into the industry. Even though he has been less involved as he was as a racer, it is clear that his love for the sport has remained in intact. "I'm so glad the sport is still alive and kicking. I'm glad to hear it's back on its way, maybe we will see full bleachers and racing on ESPN again. Takin' it to the next level."