2015 Lake of the Ozarks Shootout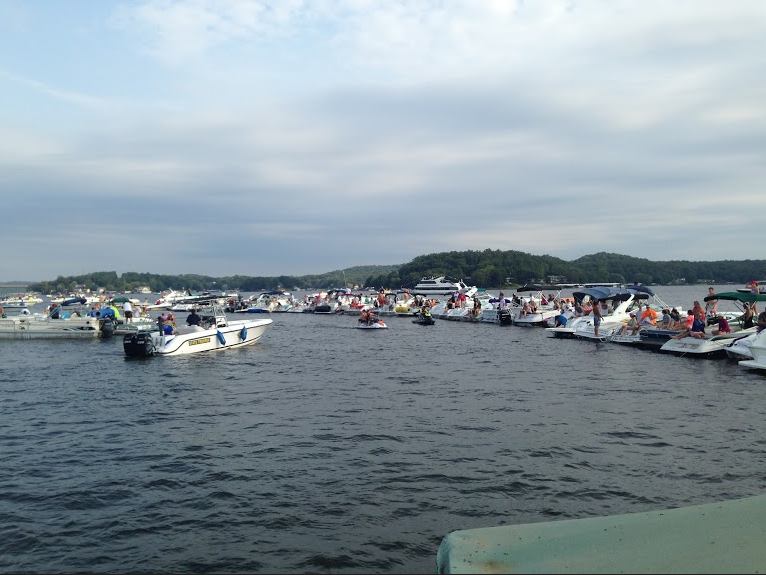 Thousands of boats tied together and anchored as spectators spent the entire day watching hundreds of racers go for the prestigious status of "Top Gun" at the annual Lake of the Ozarks Shootout.
Greg Surdyke of Surdyke Yamaha returned with his team of Yamaha riders to take a stab at the coveted titles in each of the divisions. The Surdyke Yamaha team stepped up to the plate in the 2-Stroke Runabout division, the Normally Aspirated division, and the Open/Turbocharged division. With their fleet of specialized Yamaha models, the Surdyke team took to the water for their radar runs. The top speed among the PWC classes clocked in at 74mph, recorded by Ron Wagner in the Open division. Team Surdyke took home the "Top Gun" title in all of the runabout divisions.
"I think that anyone who owns a PWC and wants to help raise some money for charity should come out and race", said Surdyke. "All you need is a helmet and a good life vest, and preferably a Yamaha but we also invite our competition to come out and race. Yamaha has won every year for the past ten years — we could use some competition."
Outside of the PWC classes, some of the hottest boats in the world went for the title. Thousands of people watched in awe as these machines broke 200mph with ease. The weekend's top speed went to the American Ethanol boat, which hit the radar with 208 mph. Although this run was impressive, the Shootout record of 240 mph, set by the Spirit of Qatar, has yet to be shattered.