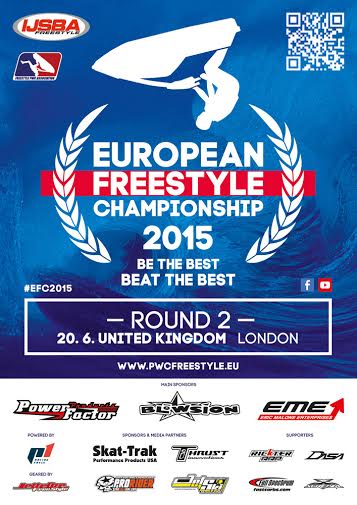 MotorActionMedia.com gets the official press release for the second round of the European Freestyle Championship from IceMan himself.
The European Freestyle tour is a competitive circuit dedicated solely to freestyle Jet Skiing. Here you will see the best riders in the world throw down their best tricks in some of the most beautiful sites.
After a successful and record breaking round 1 at the end of May in France, European freestylers are traveling to London, UK this weekend for round 2 of the freestyle tour. "I lived in London for almost a decade myself so I´m always happy to come back here", says the founder and organizer of the tour Vaclav "IceMan" Zacek. "It is even better that we can bring the European Freestyle Championship on river Thames once again."
The second qualifying freestyle round of the 2015 European Freestyle Championship will take place on Saturday 20th of June at Tereza Joanne Boat facility in King George V dock, London, UK. Don't miss out!
OFFICIAL EVENT TRAILER
 More about European Freestyle Championship:
Website: www.PWCFREESTYLE.eu
Facebook: www.facebook.com/PWCFREESTYLE
YouTube: www.youtube.com/PWCFREESTYLE
Vimeo: www.vimeo.com/PWCFREESTYLE