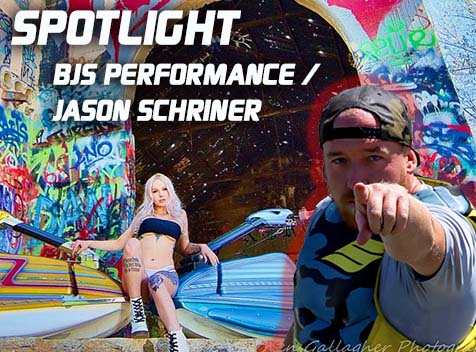 If you've ever flipped through a Pro Rider Mag bikini issue, or looked around the Facebook jetski groups, you've probably seen BJS Performance and Jason Schriner. But do you know the man behind the brand? We sit down with Schriner and learn more about this horsepower guru and the mind behind some of the coolest vintage jetski builds around.
Jason, could you tell me how you got involved in the Jet Ski scene?
Well I can thank my mom and dad, Linda & Dale, we are a life long "river rat" family from Blythe, CA. My mom and step-sister both had built skis by Cobbs Racing and PJS. I got to ride my first stand up around 4 or 5 years old and have been hooked ever since.

How did you start out honing your mechanic skills?
When both of my step brothers got into racing, I really stepped up to push them and also push myself to learn all the little things [about Jet Skis].
Do you ever race, or do you stick to wrenching?
I still race to this day, but I'm more in it to just have fun. I love the surf races that Region 1 offers.
What skis are you currently riding?
Mainly vintage 550s, the RFX cobra and X2.

What is BJS Performance?
BJS Performance was started in 2010, we are mainly a Jet Ski race shop, but we have also done a lot of ski restorations between 2018-2020.

What builds are you currently working on?
Billy Pointer's World title 650 SX.
I understand you spearheaded the new Cobra project? Could you tell me how that came to be?
Since this January, we've built 4 top top decks for customers. I'm glad the one-off vintage builds are coming back around. None of this would be possible if it wasn't for Rusty Sharman letting me keep his Cobra top deck alive.

What's the coolest ski you've ever built?
Man, that's a super hard question. Between the Carbon Cobra and the Jeff Jacobs restoration for 2020.
You had a badass photoshoot for Pro Rider. Could you tell me about the skis you used in the photoshoot?
Goldie locks & Old Blue. Mine and Kyle Robert's personal boats. Both skis were painted by Daniel Martinez, a very well-known Harley Bagger painter. Both have wide trays and RRP poles. As far as the shoot, I've always tried to find cool locations locally to my shop. This year's model was Jocey Bee, an up and coming tattoo model.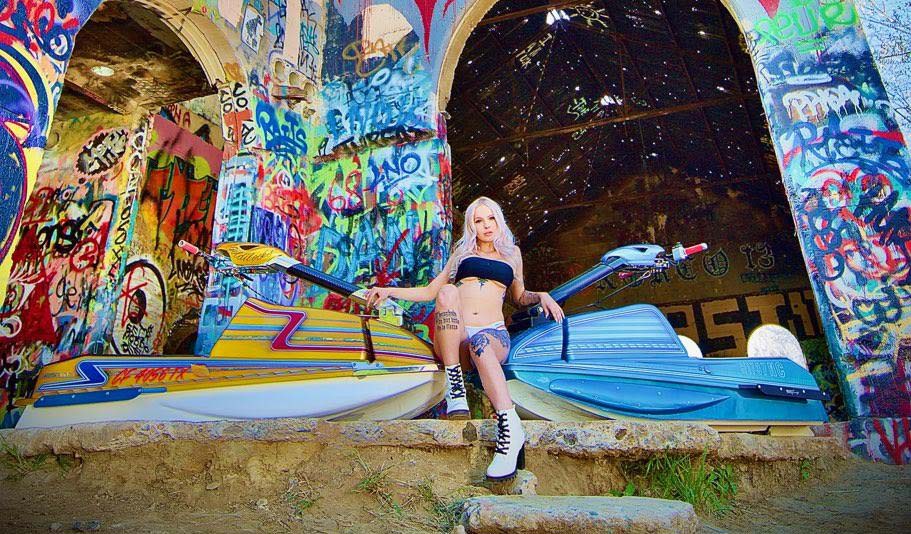 Who's your favorite old school rider? Favorite ski?
Rider and ski would be Billy Pointer aka "Wild Bill". The guy is a true legend. His 650 SX with the 4 spark plug setup looks like it goes 65mph just sitting on the shop stand.

Are you helping any racers out this year?
Yes, we've got Peyton Hill, Seth Sirr and Ian Sirr. They will always be under my tent. All good kids.
What's your favorite thing about Jet Skiing?
Traveling around the world, and running out of gas 'cuz you were having too much fun.

Is there anything you'd like to add?
Don't worry about making your ski faster. Ride more often. Try going to new locations.

Is there anyone you'd like to thank?
Stacy Schriner for always helping on those late nights.

If someone needs help with a build, how can they get a hold of BJS Performance?
Facebook, Instagram, Google.