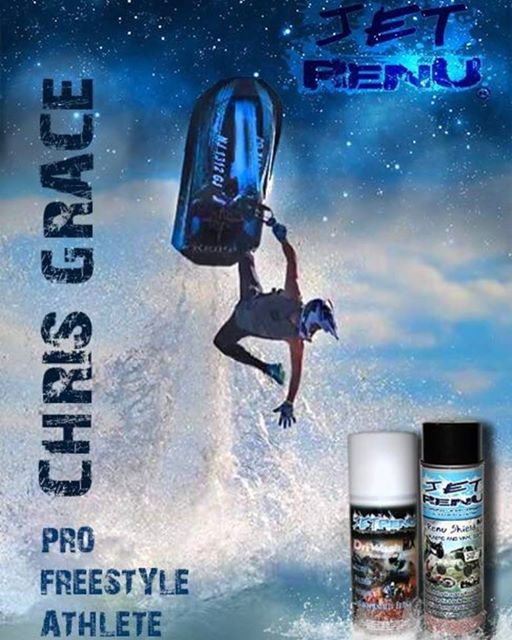 MotorActionMedia.com had a chance to chat with Chris Grace — a professional freeride athlete and JetRenu team rider. 
Chris, could you tell me how you got involved in the sport?
My father owned a Jet Ski rental that my brother and I basically grew up around. My mother would work the booth and keep an eye on us, as we would hop from Kawasaki 550 tray to tray on the dock and nearly give her a heart attack. My father did all the mechanic work himself and also competed on his 440's/550's for a couple years and was talented enough as a privateer to reach the professional level, but had to come back and run the rental full time in order to provide for the new additions to the family ( my older brother and me). I learned to ride when I was six years old on my knees and then progressed to standing up and doing wicked power slides haha. I was also drawn to motocross, but as I progressed in that sport my father saw how many injuries can come from competing so I then switched to other sports (baseball, football, basketball) and played them all through middle school, high school, and into college and got away from jet skiing all together. Then, I tore a major ligament in my elbow as a pitcher for my college baseball team and after reconstructive surgery as well, as a year of rehabilitation, I realized my baseball days were likely over. As this chapter of my life ended, I searched for something to devote my time and effort to. This was when I reconnected with stand up jet skiing and now, two years later, I'm competing as a professional Freerider.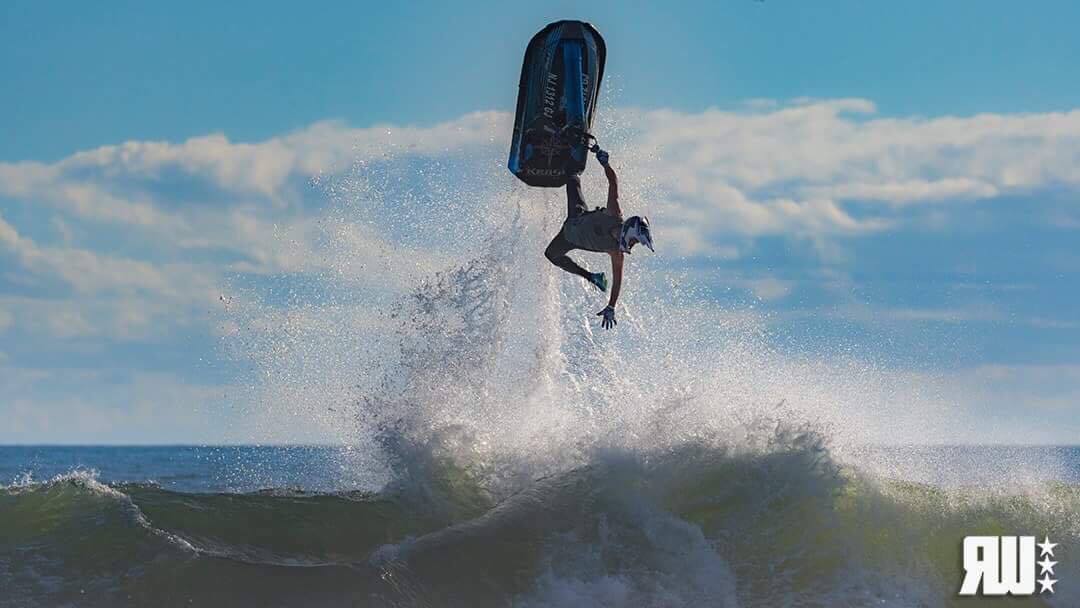 What have been your favorite accomplishments or memories so far?
My best accomplishment would be competing in my first professional event at the 2016 Wavedaze contest and battling with the top freeriders in the world to go on to land a solid podium spot with a 3rd place.
Could you tell me about your ski?
Interestingly enough, as many others do, my father and I used to build skis starting with just a hull and then an accumulation of aftermarket components. However, times have changed and now I currently ride the all-new Krash Industries RTP (Ready to Perform) 50 CAL Surf edition ski. The Krash RTP's are built completely by CEO Nick Barton and company in Australia and he oversees the entire process. Riding and working for Krash Industries has been an absolute dream! We recently released our RTP complete in house built units that consist of our new KV997cc engine, Black Ops 48mm carburetors, KV set back 148mm magnum pump, and a DC-CDI that comes with four pre-set maps to take you from 70hp, 100hp, 120hp, 160hp simply by the rotation of a switch. This is amazing for our sport as now you no longer are plagued by a build from scratch that most likely is going to cost heaps of money and take a lot of time. You can now purchase a complete ready to perform unit direct from Krash at an affordable price of $12,000 USD and you're set to do what us professionals do off the showroom floor! Oh yeah, and if you grab a Krash RTP, it's a must that you add at least a couple of JetRenu's products to keep it looking fresh and brand new like I do!
Why did you choose freestyle/freeride over racing?
I chose freestyle/freeride over racing simply because I enjoyed slashing in the surf more than anything on a jet ski. The aerials obviously were something that I always wanted to do, but the pure enjoyment of freeriding in the surf with your buddies and adding your own style reminds me of an artist that has perfected his trade. He flows almost effortlessly and this was something that caught my attention when I would watch my father in the surf. Ultimately, this made my decision on freeride over closed course racing.
Are you competing this year? What are your goals for the season?
My goals for this season consist of making the podium at any event I attend. I was looking to improve on my previous 3rd place at Wavedaze this year, but unfortunately the competition was canceled due to very poor (non existent) surf conditions. I also plan on creating consistent media content for my sponsors as well. I believe videos, even short clips, are key to building you and your sponsor's brand and I will strive to do that this coming season.
What advice do you have for someone who might be looking to build a ski of their own?
Simple, let Krash build it for you! Haha. I would say the complete ready to perform package is ideal for the rider who simply is not very mechanically inclined as well as those who do not have the time and experience of others who have been building complete aftermarket builds for years now. Not to mention, $12,000 USD for a complete ready to professionally perform ski is nearly unheard of. To this point, building an aftermarket, top of the line professional ski would cost anywhere from $18,000-$25,000 USD and you would also need an experienced mechanic to assist you in order to ensure it has all been properly installed and aligned. However don't get me wrong, the aftermarket companies are making amazing quality products and I believe that the Krash RTP will only bring more business to these companies. As I was told by my freeride friends Zack and Jake Bright, which I could not agree with more, "If you're not breaking parts, you're not progressing as a rider." This holds true because if you are not pushing yourself out of your comfort zone, than you will never see what you are capable of as a rider. Things break on Jet Ski's and this will just bring people back to Krash or aftermarket companies to re-stock and continue to push the envelope!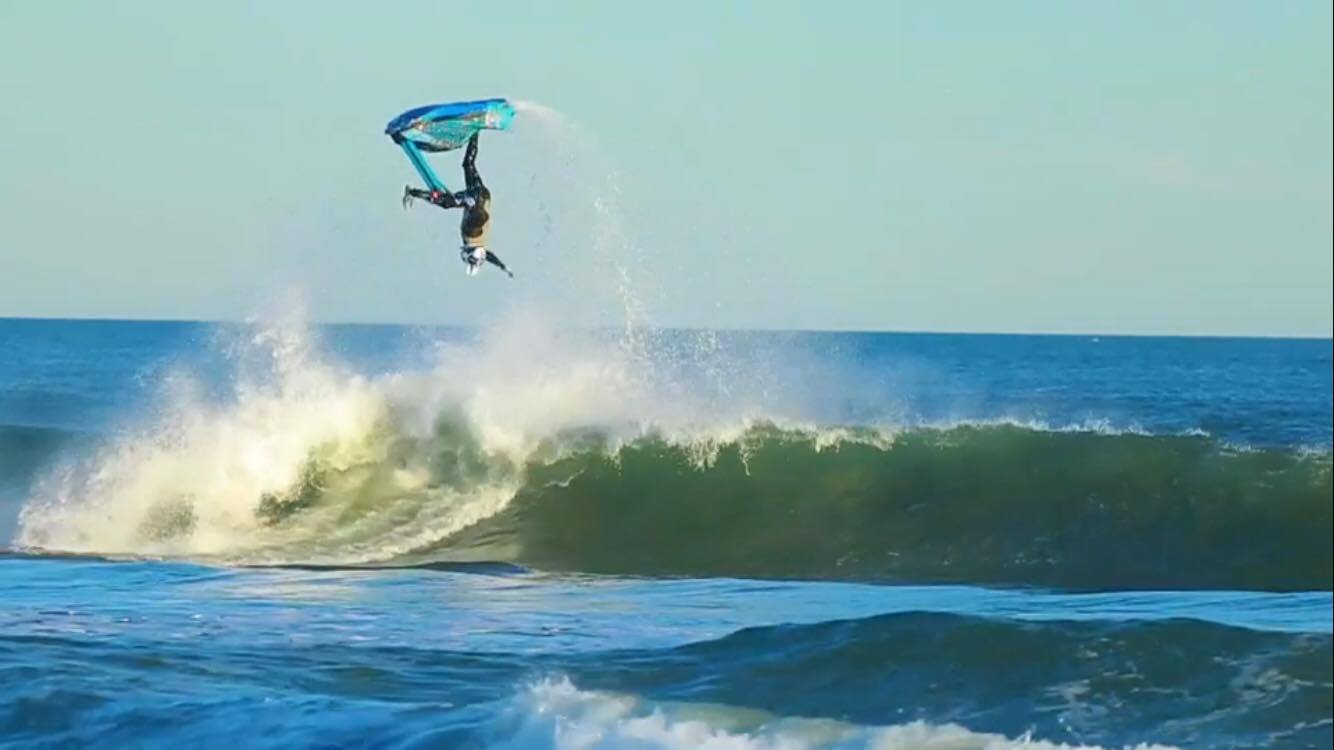 What JetRenu products do you use and what do you use them on?
My absolute favorite JetRenu products are the Dri Wash and the Renu Shield! I use these products on my Krash Industries 50CAL every time I ride and even sometimes when I don't just because I want it to shine like a diamond! At our last event in Virginia Beach, we used the Dri Wash on my father's old black Krash Footrocket and stating that it brought this Jet Ski back to life would be an understatement! This thing shined like a brand new boat and I couldn't be more stoked on promoting such an amazing product that truly works. The Renu Shield does the exact same for keeping your engine bay shining and protected as it forms a protective coating made up of a special blend of silicones to keep your engine and parts safe in tough salt water conditions! Go buy some, NOW!
What events do you plan on attending in 2017?
In 2017 I plan on attending/have attended the Daytona Freeride, Wavedaze, Grayland Open, Surf Slam and hopefully one of the Pismo Freerides because it looks rad!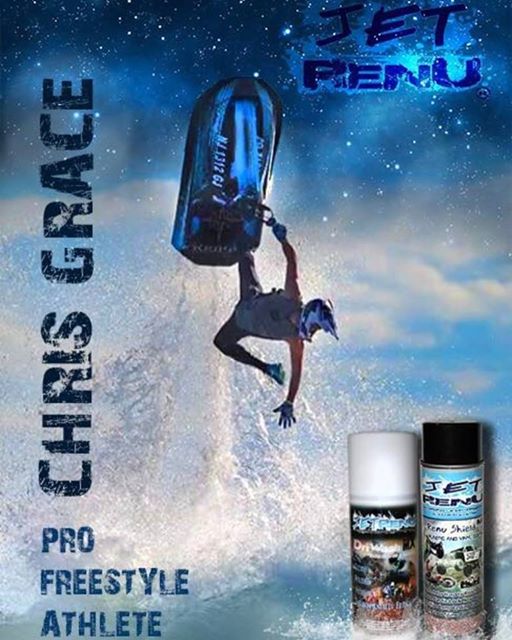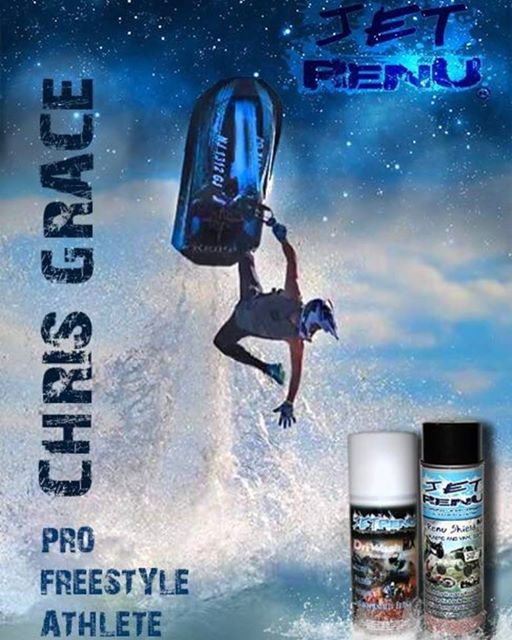 What do you love most about Jet Skiing?
The thing I love most about Jet Skiing is the feeling you get when you ride with your buddies and throw it down in the surf. Everyone feeds off of each other as you send it off the lip and pull your favorite trick. The next guy does the exact same and the vibes are something you would only understand once you're out there with us!
Is there anything else you would like to add?
Progression is key. We're all here for something more. Whatever it is that you do, strive for greatness!
Is there anyone you would like to thank?
I would like to thank my family, my beautiful girlfriend, my friends, and sponsors for everything they've done for me in order to make this all happen. My father for doing absolutely everything I asked in order to get me to where I am today for if I didn't have him wrenching on my skis, taking me to events, teaching me things every single day, I would not be the rider and person I am today. My mother for loving me and doing whatever she possibly can to help me in my journey through life. My older brother for being the best role model I could ask for and continuing to set examples for what I strive to be. My amazing girlfriend for her unconditional love and support toward everything I set out to do. No matter what the result may be, she is always by my side without a shade of a doubt. The Bright brothers and family for helping in the industry and teaching me the ways of shredding! Jon Denham for riding with me at our home break all the time and never hesitating to lend me a hand with my ski whenever I may need it or a tow in to the beach when I break stuff Haha! Thank you to Krash Industries, JetRenu, Thrust Innovations, True Performance Engineering, FRI, and Wildwood Seadoo for everything you have done previously and continue to do for me! Thank you to my friends and sponsors, past and present, for keeping me going and helping make this dream a reality.

This interview was brought to you by JetRenu.