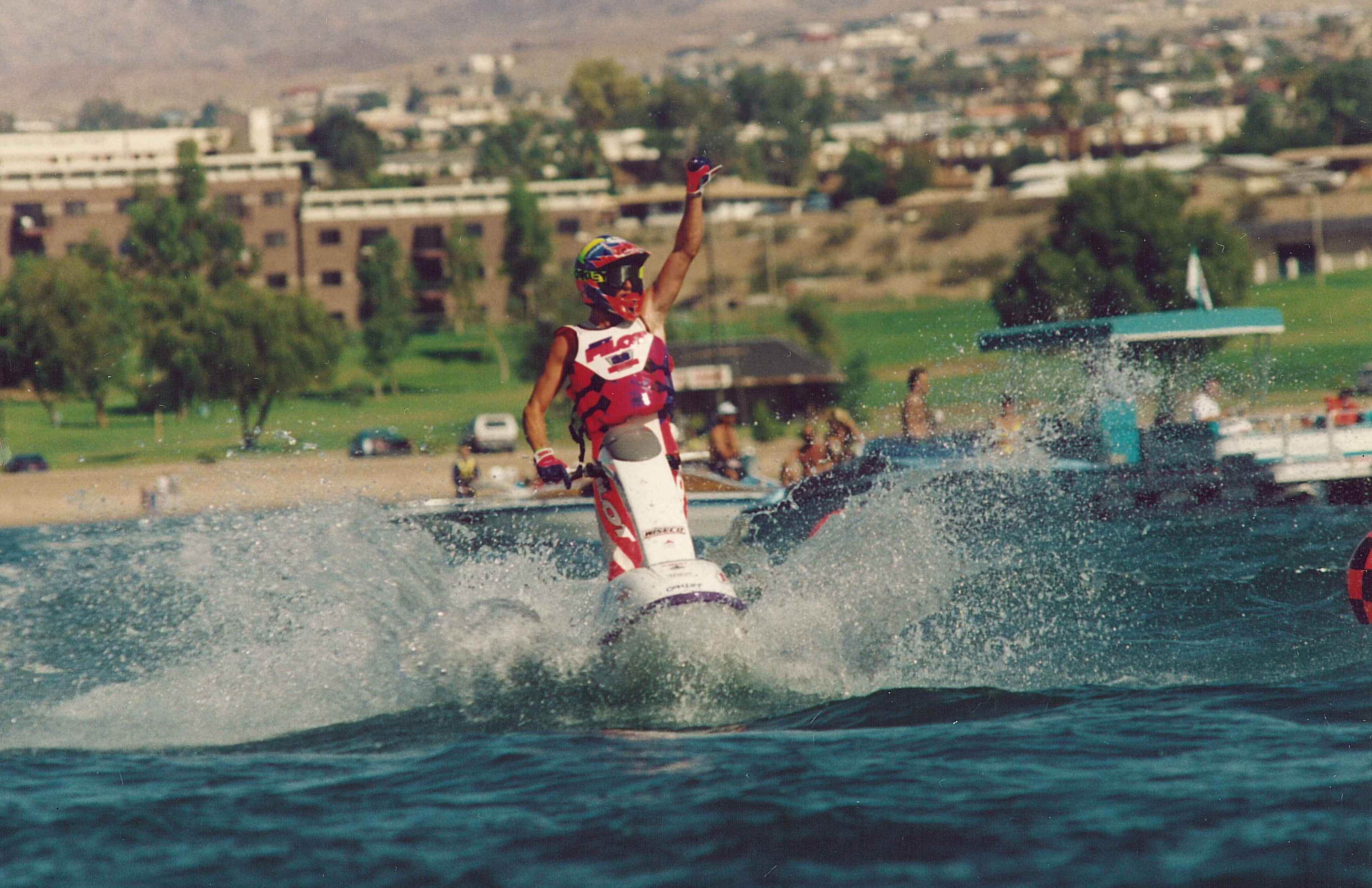 Motor Action Media interviews the greatest stand up Jet Ski racer of all time, the legendary "Jammin' Jeff Jacobs, a ten-time World Champion.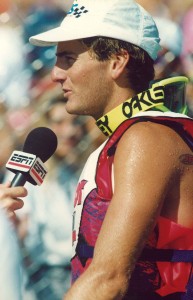 Motor Action Media: Jeff, you are still considered the greatest stand up rider of all time. How did you start out in Jet Skiing? Did you ever imagine you would become a ten-time world champ?
 Of course not. Taking a quick trip down memory lane, it all started on what was supposed to be a quick road trip out to Vegas with my brother and my Dad. I was 13-years-old and all I had on the brain was going to Circus Circus Hotel and playing arcade games all week. The strange part was that my Dad insisted on taking our 550 Jet Ski with us which I thought was odd, but part of his master plan. On the way out he decided upon a detour of sorts as we headed into this ghost town I had never been or heard of before called Lake Havasu City. It was there where I got to see a Jet Ski race for the first time in 1984 and it just so happened to be the biggest Jet Ski race, the World Finals. Low and behold my Father also took it upon himself to enter both my brother and I in the races. To be honest it's pretty nostalgic just thinking about it… I remember doing Slalom with just a pair of shorts and life jacket on. No shoes, no helmet, no gloves, etc. Found out later he entered me in this class called the 'closed course' as well. I remember them taking us out on one parade lap to show us the course layout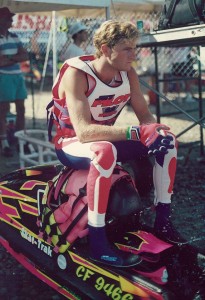 and coming back crying my eyes out, I'd never seen water that rough and other Jet Ski's so close  to me! Think I missed the transfer spot by one but it definitely set in motion our family's desire for more. Watching Brian Bendix & Larry Rippenkroeger battle it out on the water that weekend was the most beautiful thing I'd ever seen on the water… Those guys instantly became my heroes overnight. After that weekend all I did was come home from school and watch that World Finals VHS tape 100x over. I had that tape memorized from front to back. Never in my wildest dreams did I think I'd be on stage racing against those guys in years to come let alone retiring with 10 World Championships. It's very special to me to be able to look back now and say I was the best in the world at something especially at something I fell in love with at such an early age. Stand up Jet Ski racing became my true identity, my passion… school, sports, and hobbies became second fiddle. All I wanted to do was ride a Jet Ski as fast as I could and have as much fun as possible while doing it. As the expression goes… I wouldn't change a thing.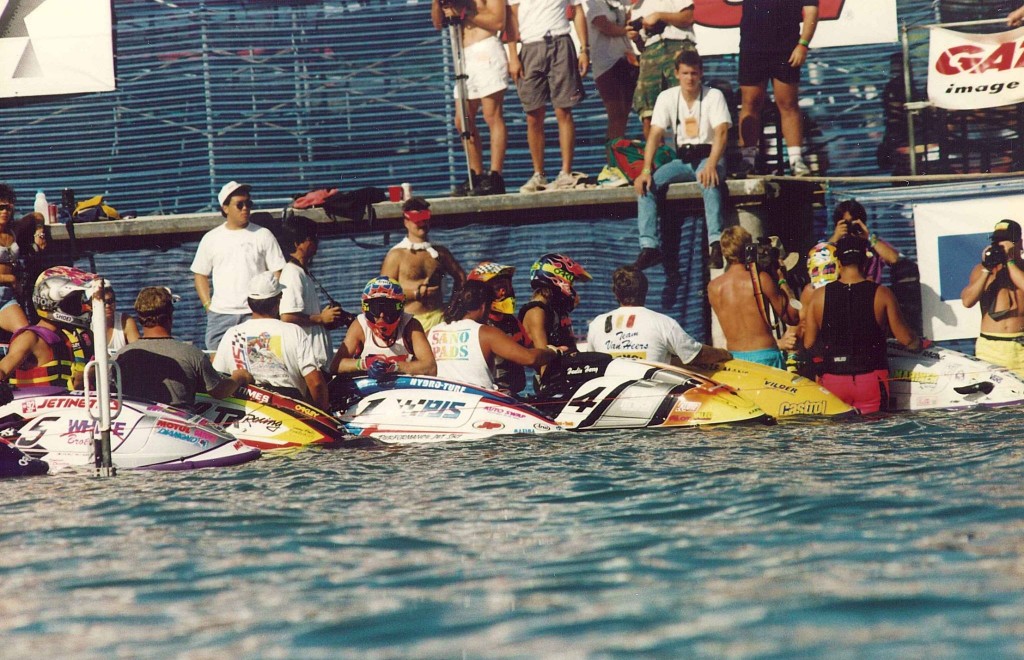 MAM: I understand that you did a lot of work to your own boats outside of the work that PJS did for you. Could you tell me about that?
 In the beginning, PJS was a crowded team. The Ripper, David Gordon, and I were on virtually the same equipment. My father was a pretty smart guy to say the least, and he loved to tinker. Fortunately he had a solid mechanical background and had every Jet Ski service manual memorized by that point. Also, our local Jet Ski shop where we bought our Jet Ski's from was going out of business and liquidating so he bought out their entire parts department so we were able to basically set up our own shop and testing facility right out of our garage. With the aid of some local welders and a machinist we were able to come up with some pretty cool stuff. Probably the coolest was our oversized pumps. We started running them early on in '87 meanwhile keeping them a secret from PJS. There was nothing like a huge oversized pump with a legendary Scott Clough kicked prop heading to that first turn back in the day. A few years later in early 1990, PJS started producing their own infamous Afterburner pumps with the same specs and by that time everybody on tour was running them as well.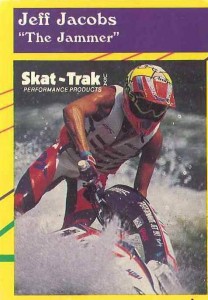 MAM: PJS is legendary for some of the wicked fast boats you raced. What was it like being a part of the team?
 It was a special time for sure. Still amazes me today how recognizable and synonymous PJS has been with Jet Ski racing over the years. They were simply ahead of their time. The amount of money, time, and effort that went into that operation was incredible and to know a lot of that rested on my shoulders on the track was very gratifying. It's flattering even still today to hear people talk about those PJS boats and what memories come back to life just by seeing an image of them. I try and keep that stuff up on social media as well because of such the positive reaction it gets. Best of all it was a fun tight-knit family of great people that I got to work with and develop great relationships with. And of course it didn't hurt that they had the fastest boats in the biz back in their heyday as well.
 MAM: What was the fastest 550 you ever rode? What was under the hood? How fast was it?
 It was about one month out from the first national tour race in Long Beach of 1991, down at some secret testing pond near El Centro, CA where all the PJS meeting of the minds showed up. An entire off season of R & D came to a front that day and it turned out pretty good. We put a radar gun on a race boat and clocked 58mph. By time we set up ignition curves, ride plates & grates, props, and remedied its cavitation out of the hole we settled on 57.5mph race ready. Putting that into perspective the year previous we were pushing 52mph. Adding over 5mph going into that season was a huge advantage to say the least. It was basically a 650 motor bored to the tilt with a newly redeveloped ignition system and a brand new EFI system never seen before on the race scene. We had to run huge props to keep her in the water which made it hook up even better. That boat never lost a race that season.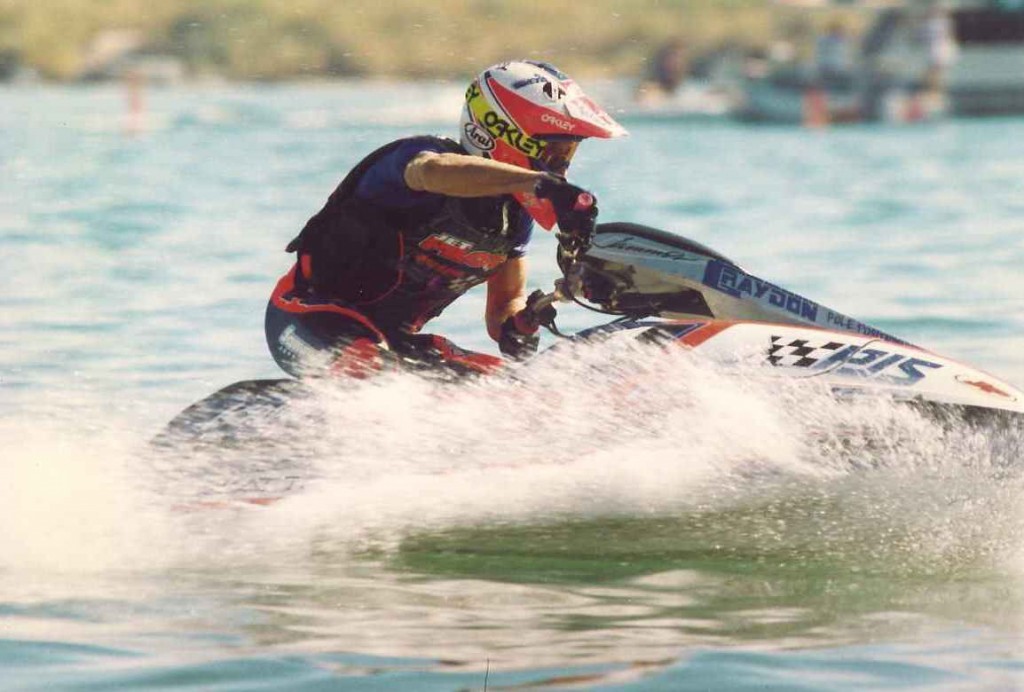 MAM: What advice do you have for young riders who want to get as fast as you?
 That's always a hard question to answer without sounding cliché. I think those that are driven enough and have the desire to succeed will stop at nothing and don't need any advice. If you want something bad enough obviously you'll never give up on it. Wait, just thought of some advice for what it's worth… keep your social media positive… It's so easy in this day and age to have that platform to connect with your audience however nobody wants to hear excuses or why someone else is a jerk. Sponsors don't want to hear that you only got 3 hours of sleep or your sick or your equipment didn't run right, or so-and-so cut you off. And your followers don't care you got a bad start or that your shoulder hurts. As soon as something goes wrong people are quick to run to their devices giving up on the task at hand… let your results speak for themselves, the podium speaks volumes. Just keep it upbeat. It's funny because back in my era we had to wait 3 months later to read what happened in a magazine, by that time nobody remembers or cares about that DNF that cost you the championship… I guess I'm just jealous we never had that stuff back in my era, although maybe that's a good thing!?!
 MAM: You are also known for being the inventor of the bounce turn, could you explain that?
 Definitely not the inventor of the bounce turn! I may have tweaked it a bit but it was existent long before I arrived on the scene. Much like the Slasher's leg drag, Bendix and Gordon were doing it long before but the Slasher came along and perfected it. I go back to the off season between 1987-88, think I rode everyday that Fall/Winter/Spring. A good friend and riding partner Tom Lathrop who I used to practice with had this irregular style of hanging his leg fully extended directly behind the tray going into left hand turns and as fast as I got I just couldn't pass him and it drove me nuts. He was virtually brake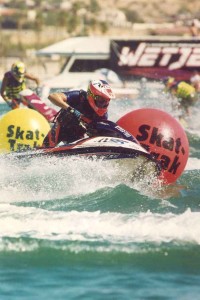 checking me into every turn. At that time a bounce turn was just hauling into the turn and kicking the rear out and letting your butt drop into the water and out you go. I figured the only way I was going to get around him was to commit to the outside and sweep the turn. I went into beast mode for the next few months practicing this new style of wide open sweeping turns trying to get as tight as I could without dropping into the water, basically getting the ski onto a rail and holding that line. I must have done twenty thousand slalom runs trying to perfect this style. Over that off season I was able to perfect it and my left hand turns got fast.. really fast. Now I was able to come up on people and have the choice to either go inside or just hold it wide open on the outside. That's also about the same time the X-2's came on the scene and I would just practice behind them and run them down as much as possible. They had a bigger wake and overall footprint on the track and were hard as hell to pass but eventually guys on 550s became easy to pass. Fast forward to a spring warm up race in Lake Castaic, CA in early 1988 and I remember being on the far outside starting position and getting a bad start — actually a really bad start — and literally holding it wide open around the first turn and getting the holeshot. I remember Bill Chapin telling me he'd never seen anything like that before… I knew I was on to something. That's also when I was finally able to separate myself in slalom from Goatcher and Flash Gordon who I regarded as the kings of slalom at that time.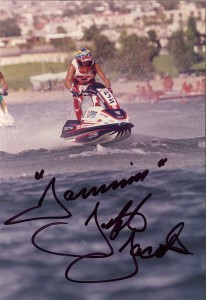 MAM: You once said in an interview, "I'm just a skinny kid trying to prove a point." What was the point you were trying to make?
 I was a skinny kid back then that's for sure. I think it was when my brother outed me in an interview when he said of me: "He's just a skinny kid who can't lift the front of a jet ski by himself!" Of course he was right at the time but now I had a point to prove that skinny kids have feelings and you don't have to be big and strong to win races am I right?
 MAM: What was your most memorable moment in racing?
There are a lot but here's a funny memorable moment that always comes to mind still… It was the summer of 1990 at the Bush World Cup races in Florida. The Lauber brothers put on some awesome events back then, in fact they were my favorite races. Halfway through that 4-race series I got penalized 20 points for showing up late to riders meeting… pretty sure it was a conspiracy! I think my friends and I were having another wheelie contest on scooters that ran a little too long.
Understand that the Bush World Cup series took place directly after the IJSBA National Tour ended, so therefore the big wigs, sponsors, parents, and mechanics all went home leaving us rowdy teenagers with nothing to do for the rest of the summer. So I would always load up the PJS box van with my buddies ski's and head to the Bush World Cup to go racing.
Ok, back to the story… so I was penalized 20 points, boats weren't running their best, and rumors were swirling that we were a bit out of control. PJS headquarters got word and decided to take action. So for the very next weekend they sent out one of their head mechanics Mike Cohen 'the Master of Disaster' to clean up the mess. Being familiar with Ft. Myers airport since I had just picked up 2 of my best friends from back home the day before, I was back picking up Mike from PJS. So as I'm driving back from the airport with Mike, I pointed out to him that we had just rented a house on the beach about 5 houses down from the race hotel and that he'd love how serene and peaceful it will be for working on the boats.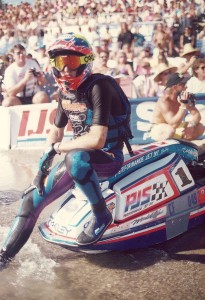 As we pulled up to the house those rumors became reality as plain to see every single race boat I had, plus our PJS X-2's upside-down, hoods off, floating on the beach in what looked to be a complete yard sale of sorts as my friends were literally renting them out to girls and anyone else interested in riding them. There was also a mini supercross track running through the property full of berms, jumps, neighbors' furniture, and about 20 scooters railing each other while a large crowd had gathered to watch the action as if watching the Motocross des Nations… Oh and a couple of sheriff cars rolling up for good measure. It was complete mayhem! Fortunately, Mike put on his party hat and kept it on the down low from PJS and got everything humming and I went on to win that World Cup in Florida, dominate that '90 World Finals, and have the best streak of my career virtually unbeaten from that World Cup through the entire '91 season.
 MAM: What do you think of today's 1100cc three-cylinder race motors and four-stroke stand ups? Have you tried one out?
 They're incredible. I got to hang out with Kevin Reiterer under the Flamingo tent this last World Finals, Kevin is a really cool kid with amazing talent. I got to ride one of his back up boats. The power they put out is amazing. Even more amazing is how they race 20 laps on them. Definitely a different kind of racing then what I was used to. It's exciting to watch those guys race on that amount of power. With some tighter tracks and more log jumps I'd watch those guys battle all day!
 MAM: What's the secret to building a fast 550?
 A rich sponsor!
 MAM: What have you been up to lately?
 Just staying low key really. I'm pretty into mountain biking, I have an awesome group of buddies I ride here in San Diego with. Best way for an old guy like me to stay fit and active while still maintaining a bit of competitiveness. I usually go on my 'Parkapalooza' trip during the summer hitting every bike park I can and ending up in Whistler during their Crankworx festival… which is the World Finals of mountain biking.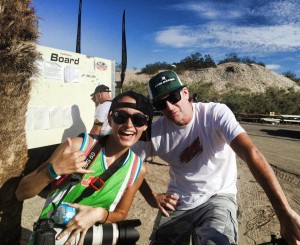 MAM: Will you be lining up with me in the vintage class at the World Finals this year? Or are you going to chicken out? 🙂
 I'm pretty sure I'm faster now then I was in '91! Are you sure you want a piece of that??? Tell ya what why don't you meet me at body beach a week before the World Finals starts so you can show me what's up and drop the mic on me!
 MAM: What do you love most about Jet Skiing?
 The lifestyle, the people, it's just an awesome sport! Everybody who's raced or heavily into the industry knows how addicting it is. The friends and people I got to meet through this sport were invaluable. Even when the chips were down going through a couple rough years racing back in the day, I remember guys like Dave Bamdas and Riva Racing taking a chance on me, maybe a guy out of his prime. They deserve a lot of credit helping keep the Stand up class alive at the same time helping me resurrect 5 more championships. Of course racing and winning is fun but the people behind the scenes making it all possible is what makes it all so special. The sport has seen its ups and downs but in the end its truly an awesome sport with so much to offer. For me I was able to make a living off of it, travel the world, and meet tons of amazing people and friends making a lifetime of memories, can't imagine it gets any better than that.
Who else would like to see the Jammer on a 550 again? Motor Action Media is extremely persistent, and will continue to pester Jeff Jacobs until he agrees to meet us on the starting line of the vintage class at the 2015 World Finals in Lake Havasu, AZ.