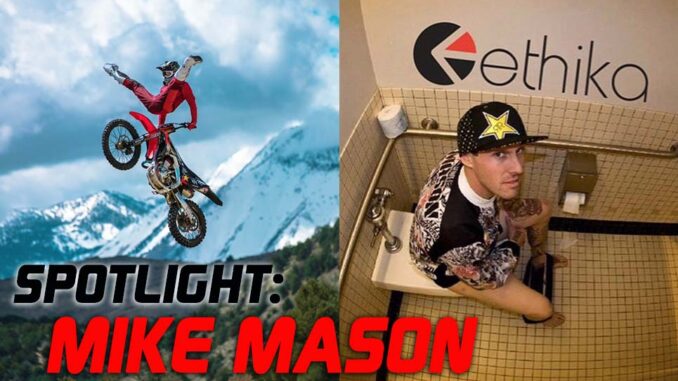 If you're a fan of moto or FMX, you've probably heard of Mike Mason. He is an X Games gold medalist after all. I was fortunate enough to meet Mike last year, and we've become homies. He keeps telling me I need to learn how to flip my bike, and I keep telling him he needs to race me on a ski! Check out the interview.
Mike, before we get to the good stuff, lets start at the beginning! How did you originally get started with motorcycles?

As far back as I can remember, I've always had a passion for motorcycles.  I grew up around the local tracks here in Carson City, NV watching my dad race and idolizing all the local pro's.  I got my first bike when I was four years old and that was it.  It was all I wanted to do.  

You're not from the heart of moto in so cal — what was it like getting into dirtbikes up in Nevada?

It was definitely different.  The kids in Southern California were always in the spotlight and getting highlighted from an early age,  racing against the best every weekend.  Up here in Carson City,  there was basically a small tight knit group battling it out,  thinking we were going so fast,  but then we'd go to So. Cal and be mid to back of the pack.  It was an eye opener.  We all pushed each other hard though, and even though we were best friends we went after each other week in and week out.  I had a solid group of friends ( Dustin Miller, Brian Foster, Matt Buyten, The Tiearney's and Scullens) we all pushed each other really hard,  and I think in the end the outcome worked out.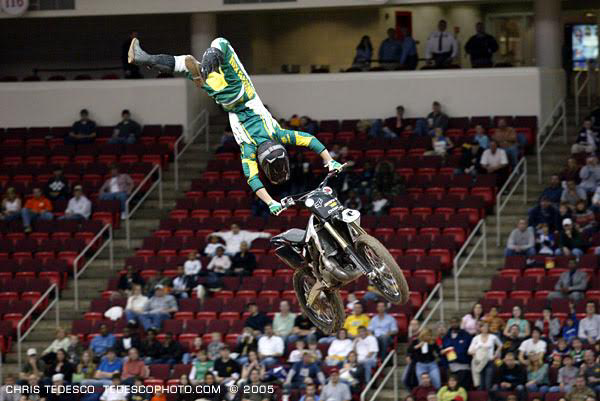 I understand you originally started out as a racer, eventually racing Arenacross as a Pro. What made you decide to get into racing?

Racing was my passion.  I couldn't get enough of it.  Back in my days supercross and nationals weren't live,  and maybe on once a month.  I would record the races on VHS and literally watch them every day.  I was a student of the sport.  I wasn't just a kid trying to go fast, I was trying to replicate my idols,  how they cornered, how they jumped,  I wanted to be just like them.  When I first raced supercross in Anaheim I was so star struck,  not because of who was on the line,  but because of the history in that stadium,  same with Hangtown.  I first went to that national in 1987,  and pretty much every year after that to watch the pro's.  When I was on the line for the first time there in 1999 trying to make the national,  I couldn't help but think of all the years I spent watching there.  It was all pretty surreal.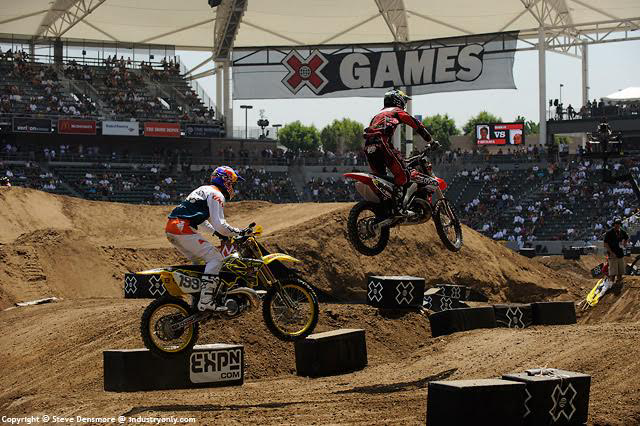 What was your favorite memory from racing Arenacross?

My favorite memory of the Arenacross series, was the family.  I spent three years of my life driving around in a van,  chasing my dream,  racing with some of my idol's from growing to also some of my good friends.  It wasn't like the SX series where if you're not top tier you get overlooked,  Arenacross was truly a family.  From the guys at TUF Honda floating me some parts to help,  or Denny Stephenson and his dad giving us some one ride tires,  everyone had each others backs.  It was some of the best times of my life honestly.

What made you decide to transition into FMX?

I had a really rough stretch throughout 2002-2003.  I rode the whole 2002 Arenacross series with a torn rotator cuff,  so my shoulder would dislocate once or twice a night.  I toughed it out made some money and got surgery right after the 2002 series which sidelined me for the summer.  I was also riding with a tore ACL that year,  but it never bothered me too much.  I finally got cleared to ride in August and decided to take a job riding an FMX show in Italy to try and recover some money from not working all summer.  I wasn't all the way prepared,  but made it through 98% of the show.  With two jumps left I did a one hand seat grab, got back on to my bike a shade late,  clipped the top of the landing and popped my knee out.  This time I couldn't get through it.  I once again was headed to surgery.  That one took seven months to recover from.  When I came back I was broke,  I couldn't afford to keep paying to go racing and chase my dream.  As fate would have it Freestyle Moto was booming and I had some ties from the Arenacross jump shows,  got a couple offers for some shows,  took them and the rest was history.  I went from spending all my money to get to races and hope for a return,  to getting paid $1,000-$1,500 and all expenses to go ride for 20-30 minutes.  I knew I had an opportunity there and I took it.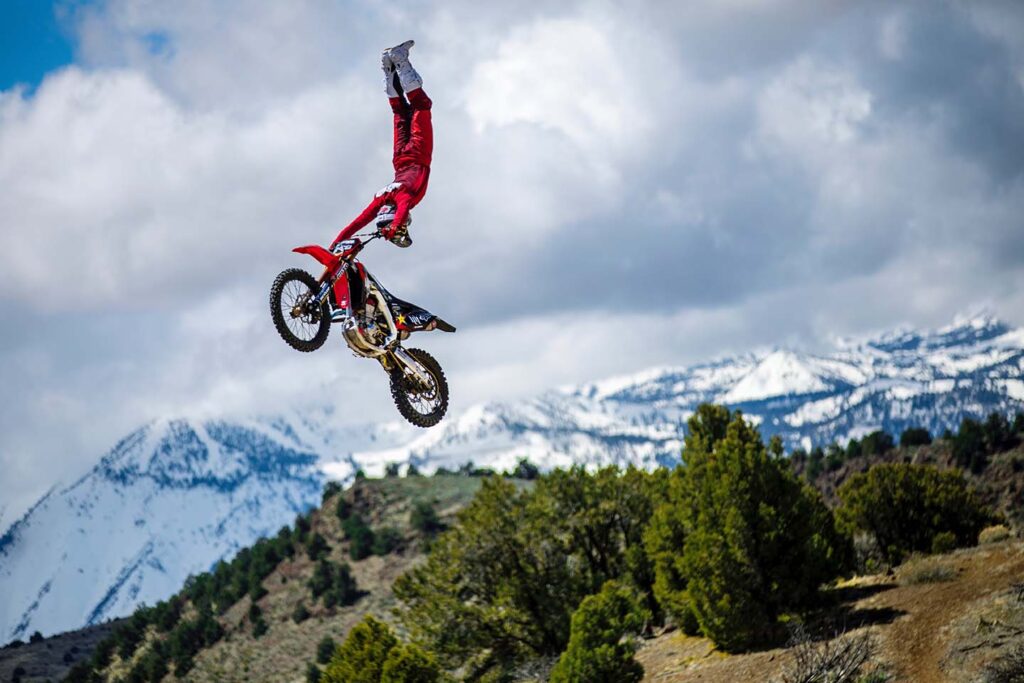 I have to ask, the first time you sent it — were you scared? How would you compare your mindset of throwing tricks when you first started to later in your career?

Honestly,  Freestyle moto was so fun to me I was never scared.  We just rode every day and pushed it.  I had the best crew here in Nevada,  Dustin Miller built us one of the most rad compounds and we just went out every day and went for it.  The backflip though was by far the most scared I have ever been.  I can remember my first one into the foam pit crystal clear,  blowing out my bike,  turning, shutting off my gas, and lining up the ramp.  I am pretty sure I blacked out and the next thing I know I am upside down hanging on for dear life.  It took me 6 months to go from the pit to dirt,  I was terrified.  It's crazy now looking back on it,  at the end of my career I would literally warm up with a stock flip,  they became so natural and honestly easier then some right side up tricks,  because you don't have to get a good pop off the ramp,  keep your bike floating right,  etc…. you just pull, look back, spot the landing.  Towards the end of my career Freestyle Moto got a little boring to me.  We hit the same jump over and over and I wasn't pushing to be the best anymore so it just became too routine.  Even Nitro Circus shows I was having to dig deep to get motivated.  That's when I knew it was time to hang it up.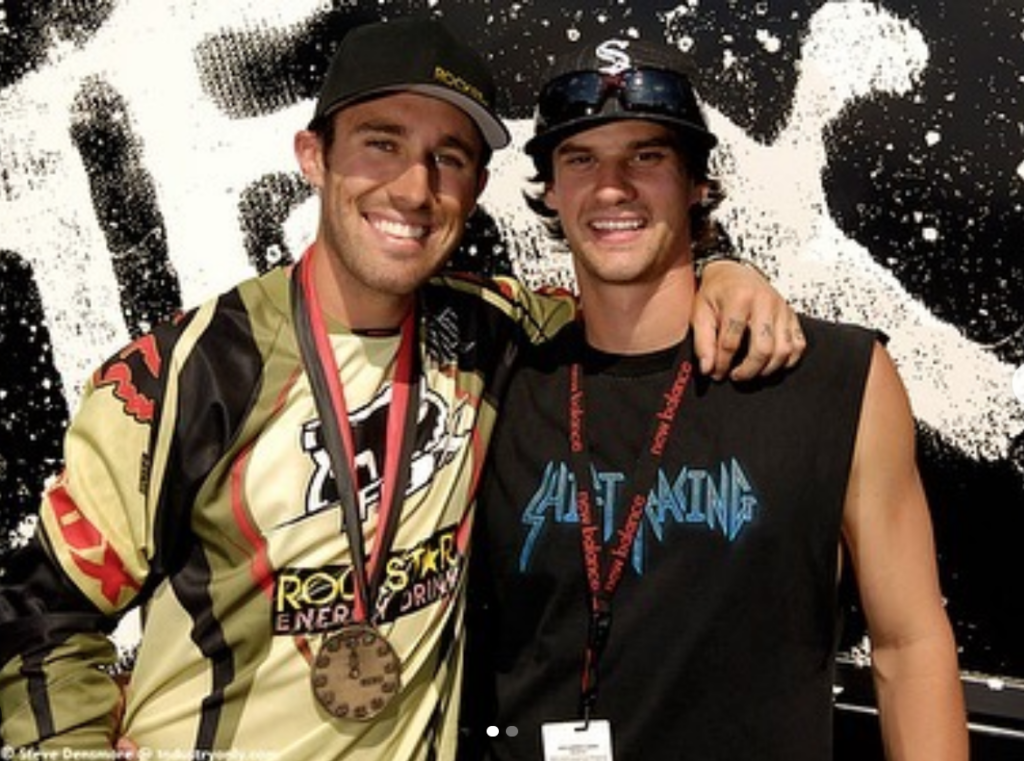 Gnarliest crash or incident?

By far my worst crash was in Australia 2010 while on the Crusty Demons tour.  Our load in to the venue was late so we only had 20 minutes of practice and I was meant to do a seat grab flip on command during the show,  so I always liked to get three or four out of the way in practice to get comfy.  With limited practice I gave myself one warm up grab and then the next one I grabbed,  pushed my bike out and as I did that my hand slipped out of the grab and I was left floating through the air with my bike flying over my head.  I landed and buckled to my knees,  the bike plowed me pretty good and once the dust settled every thing hurt.  I ended up with a concussion,  broke my knee cap,  tore my hamstring,  partial dislocation of the left ankle as well as right wrist.  It was bad,  90% of my crashes I ended up sore or with minor injuries,  but this one got me good.

Who was your biggest rival when competing in FMX?

Man,  that's a tough one.  I had so many different stages in my career.  I would say in my prime,  Adam Jones and with that it's the best rival I could have had.  We rode and trained together every day.  He honestly pushed me to be my best day in and day out.  We rode in Europe together , in the states, demo's, shows,  you name it.  He was always by far the better rider as far as tricks went,  but sometimes I could use a course to my advantage and get one in on him haha.  Later in my career when Speed and Style evolved in the X Games I would say me and Nate Adams had a pretty good rivalry going.  We were kind of the top two guys there for a bit and it would literally come down to my speed on the track vs his tricks.  It was always so close from a score standpoint,  but Nate was such a genuine dude,  I really feel we were always stoked for each other however the result panned out.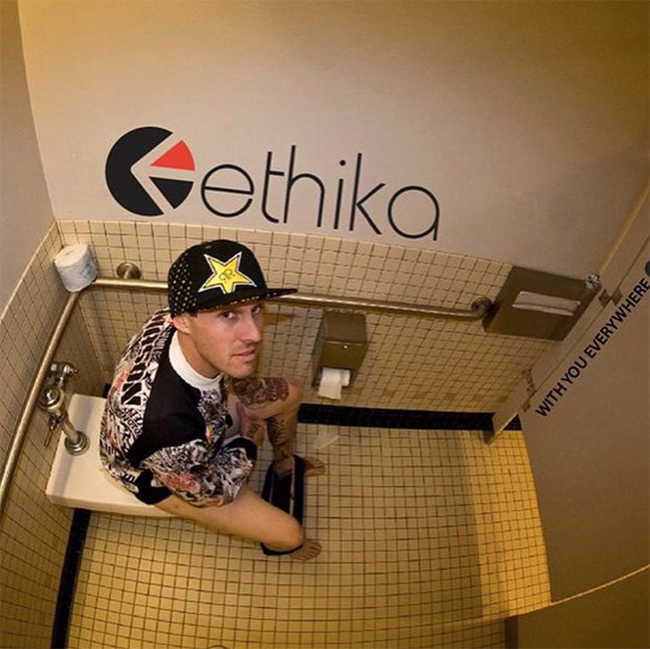 What was your favorite memory from competing?

2012 X Games Speed and Style in LA.  I'll be completely honest I was never a work hard type of guy.  I mean I put in my hours don't get me wrong,  but I wasn't living in a foam pit daily,  or just really putting my head down and grinding.  When Speed and Style came out,  I relied on talent only for the first two and crashed my brains out twice which I pointed the finger to being unprepared.  I was so bummed,  I went from thinking I'd have an easy medal at these events to finishing towards the back of the pack.  In 2011 I changed all of that.  I worked so hard day in day out before X Games,  I did not want to embarrass myself again.  11′ I got the silver medal behind Nate Adams and I was stoked,  but I wanted one gold medal.  In 2012 I switched to four strokes, worked my ass off and got Nate Adams again in the final which was exactly what I wanted.  I wanted to go out against the best and prove I could do it.  I earned my first gold medal that year and almost cried haha.  I just knew how hard I worked for it for the first time in my career and I saw the reward.  From there I kept that work ethic and mentality and when I stopped competing at X I had four golds ( three in a row) ,  a silver,  and a bronze medal from Speed and Style.  

What was the most difficult trick you ever threw?

No doubt the seat grab backflip.  For some guys,  they make it look so easy,  but for me it was one of those tricks where I always had my doubts going up to the ramp,  and I was usually a pretty confident rider.  There is just so much to that trick,  the spin of the flip,  finding your grab, pushing off,  getting back to the bike,  finding your bars and landing.  I never got super comfortable on them and I am really stoked I never have to do one again haha.  

You recently announced your retirement — what have you been up to since then?

I took seven months off just to rest,  become a normal dude,  spend time with my family and friends,  and regroup and see what my next vision was.  I loved my Moto life,  nothing will ever replace any of those moments or memories,  but I sacrificed a lot also to chase my dreams.  I never attended school functions as a kid,  missed family events,  birthdays etc… for 30+ years.  It was really nice to be home,  be able to make plans and stick to them.  I also golfed a lot and drank a ton of beers,  for anyone who follows me on Instagram I'm sure you saw haha.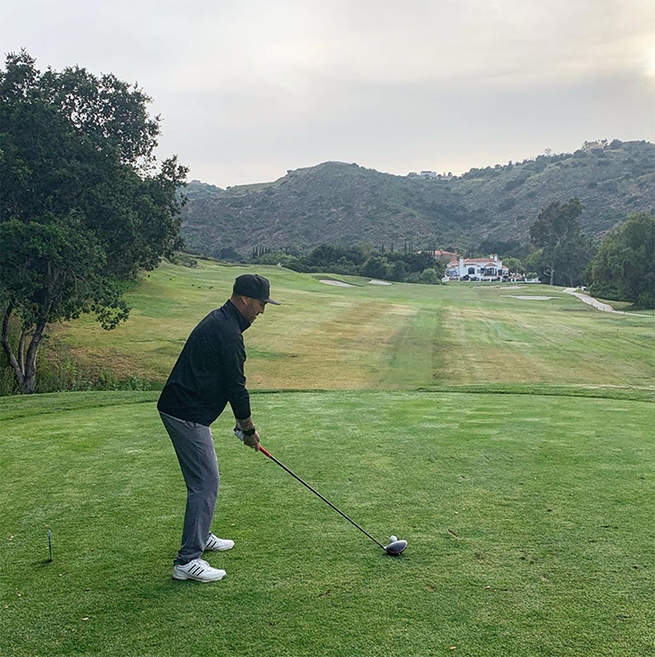 Any plans for one-off events? I know you didn't sell those bikes!

As far as Freestyle Moto,  I am done.  That sport is not something you can take a year off and just hop back in and ride an event.  I had my closure with that sport and am so stoked with the career I had.  I did turn my FMX bike into a track bike,  I will never stop riding bikes.  I want to hit the tracks,  spend time with my friends and get some exercise.  I have stayed close with Fox,  Hart And Huntington, and Ethika so hopefully we can line up some fun ride days or photoshoots.  That stuff for me isn't so I can stay relevant in the sport,  it's so I can give back to the companies who backed me for decades and always had my back.

I also understand you like to game! What's your favorite game to play. Who do you play with?

I am a Call of Duty addict haha.  It's like clockwork, every October we all get it and it's an every night thing until at least April.  Here in Carson City we can have some brutal winters,  it's cold, snowy and there's not much to do so we get the squad together and rip.  My cousin Nick,  my favorite golfer buddy Yosty,  and our filmer photo guy Jorge,  we get a pretty good squad going.  You guys would die watching me play,  every time I die I have some explanation for it or that some guy is cheating haha.  I pretty much talk non stop.

Have you ever tried a stand up Jet Ski?
I have, I sucked, I got upset,  I never tried again……

Do you think you could beat me in a Jet Ski race?
Refer to question 14,  absolutely not.  

For someone who's interested in getting involved in FMX, what piece of advice would you give them?

Have fun with it.  Everyone sees what we do now,  no one sees the hours spent getting there.  I am so fortunate to have my NVHC crew who made every day riding so much fun,  I never looked at it like I have to get good, make money and win contests.  I was like damn,  I get to come out here everyday,  ride with my friends, and have a blast.  Don't ever feel the pressure of flipping, or learning something gnarly,  that stuff all comes with time.  Enjoy the ride and push it with your friends!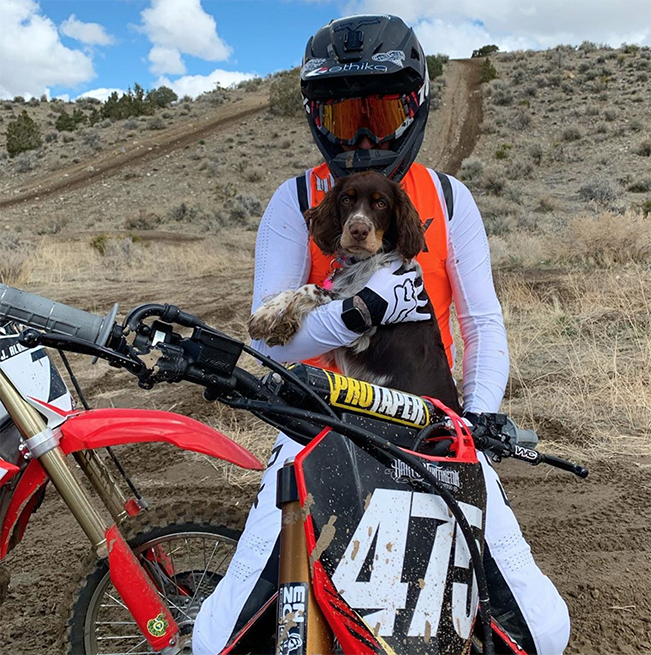 Is there anything else you'd like to add?
I lost my hair at age 34,  it sucks.

Anyone you'd like to thank?

The list is way too long,  I'm going to forget some people,  but I hope everyone knows they were a part of my career and the process.  My family for getting me started and supporting me 110%.  My mechanic Cliffy for three decades of friendship, and also building me the best bikes out there while also being somewhat of a manager/agent for me so I could concentrate on riding.  My NVHC crew for their everlasting support, riding spots, and rad house parties haha.  Fox Racing for 16 years,  Hart And Huntington Tattoo for 15 years, and Ethika for 12 years of insane amounts of support and respect.  Loyalty is huge to me and these companies stayed right by my side through it all.  Last but not least,  my fans and supporters.  I wasn't the most popular guy in our sport,  but I swear the people who have stuck with me are the best.  The amount of comments I get on social media,  from my On the Pipe edits,  to style,  to Coors Light drinking it just is so awesome. I've always said I'd rather have 20 loyal fans who get me rather than 1 million people who aren't genuine,  so thank you from the bottom of my heart,  you guys are the best.